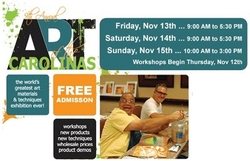 Art of the Carolinas is an event you can not afford to miss
Raleigh, NC (PRWEB) October 27, 2009
Art of the Carolinas Presented by Jerry's Artarama, an international exposition of artist materials and techniques for artists, instructors, students and hobbyists, puts Raleigh, NC on the map every November as it graces the art community with workshops, discounts and product demonstrations.
"Art of the Carolinas is an event you can not afford to miss" says event coordinator Sharon DiGiulio
Enjoy fantastic workshops by renowned instructors in every medium imaginable beginning on Thursday, November 12, 2009 and run through Sunday, November 15, 2009.
Jerry's Artarama, Raleigh's premiere art supplies store, will host the annual Art of the Caolinas event Friday (Nov13th), Saturday(Nov 14th) and Sunday (Nov 15th), November 13, 2009--November 15, 2009 at the Hilton North Raleigh (3415 Wake Forest Road).
Art of the Carolinas welcomes artists of all levels. Includes free admission and free parking.
Trade show hours re as follows:
9:00 a.m.- 5:30 p.m., Nov. 13-Nov. 14, 2009
10:00 a.m.- 3:00 p.m., Nov. 15, 2009
Come Join The Fun:
Free Admission - Free Art Demonstrations - Free Parking - Free Drawings
Art Supplies - Workshops - DVD's
Featuring the following Vendors:
Canson, Matisse Derivan, Winsor and Newton, Lukas, Ampersand, Liquitex and more
About Art of the Carolinas
Since Art of the Carolinas' inception in 2001, event coordinator Sharon DiGiulio has created an oasis for artists, featuring a kaleidoscope of workshops, world-renowned instructors, vendor booths, wholesale prices and product demonstrations. This year will be no exception. DiGiulio anticipates the trade show will once again attract thousands of artists from hobbyists to professionals nationwide.
For more details on the Art of the Carolinas
DiGiulio and Jerry's Artarama invite you to clear your palette and mark your calendar for this year's Art of the Carolinas. For more information on Art of the Carolinas please visit http://www.JerrysArtEvents.com The staff of Jerry's Artarama is working hard to present another spectacular event and looks forward to seeing you at the 9th Annual Art of the Carolinas.
###