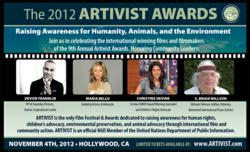 "The Artivist Film Festival remains the only event dedicated to raising awareness for humanity, animals and the environment through international films.
Diaky Diaz
Los Angeles, California (PRWEB) September 28, 2012
The 2012 Artivist Awards takes place at the conclusion of the Artivist Film Festival and will honor 10 international films and filmmakers, alongside four diverse community leaders: Maria Bello - Celebrity Actress & Advocate; DeVon Franklin - VP of Columbia Pictures, Author, Inspirational Leader; Christine Devine - 16 time EMMY Award Winning Journalist and Children's Rights Advocate; and S. Brian Willson - Vietnam Veteran, Author, Attorney, and Renowned International Peace Activist.
Barnsdall Theatre & Art Park is located at 4800 Hollywood Blvd., Los Angeles, CA 90027. Limited tickets are available to the public. To purchase your tickets today visit: http://www.ARTIVIST.com.
An encore presentation is scheduled for Friday, December 7th and Saturday, December 8th at Tribeca Cinemas in New York City. The Artivist Film Tour at Tribeca Cinemas will screen the 10 international winning films of this year's Artivist Film Festival – honored at the 9th Artivist Awards – and include panel discussions with filmmakers, community leaders, artists, NGOs, and representatives of the United Nations. Tribeca Cinemas is located at 54 Varick Street, New York, NY 10013.
For sponsorship, marketing, and advertising opportunities in Los Angeles and New York City, contact Executive Producer - President, Diaky Diaz: diakydiaz(at)artivists(dot)org
The Artivist Film Festival was conceived around the notion that films can be a creative tool utilized to inform the public and inspire positive change on the multitude of challenges facing people, animals, and the environment. Nine years ago, Artivist established itself as a premiere arena for such films to be seen, discussed, and to move people to positive action. Artivist films combine creative artistry with advocate messages, teach without preaching, and are ultimately not just informational but inspirational. "The Artivist Film Festival remains the only event dedicated to raising awareness for humanity, animals and the environment through international films. The festival also provides another important service to the community: connecting audiences with our NGO partners, where they can directly participate in taking positive action", states Diaky Diaz, Artivist Co-Founder and President.
To this end, the programming staff at Artivist has selected Wild Horses & Renegades as the opening night film for the 9th Annual Artivist Film Festival. There is nothing more symbolic of the freedoms of America than the wild horses that make their home in the wide-open spaces of the West. Under 'federal management', these horses and their pristine environment are being devastated due to corporate interests in mineral extraction and cattle grazing. Both an animal advocacy and an environmental protection issue, the debate on the failed management of American western federal lands, and the underlying role of corporations, has become a growing national embarrassment.
With stunning vistas and interviews with notable contributors, Wild Horses & Renegades brings to light the people fighting to save these animals and our environment from extinction. "This is not just a film about wild horses; it is a film about what is happening to our planet at the hands of corporate greed and government mismanagement", states Michael Blake, author of Dances With Wolves.
Wild Horses & Renegades features Willie Nelson, Sheryl Crow, Viggo Mortensen, Raoul Trujillo, Daryl Hannah, Dances with Wolves author Michael Blake, former New Mexico Governor Bill Richardson, U.S. Congressmen Raul Grijalva (D-AZ), and Pulitzer Prize winning author Scott N. Momaday.
The Artivist Film Festival presents only the highest quality films and when it comes to visual craftsmanship and thoughtful discourse on complex, controversial subjects the program for the 9th annual presentation is no exception. Come join us at this year's Artivist Film Festival and learn how one person can make all the difference in the world. This year's films include: The Well: Water Voices of Ethiopia, which presents a solution to ensuring water for all in one of the driest inhabited places on earth. Other films such as The War Around Us and Maximum Tolerated Dose bring the viewer an intimate view of what it is like to exist in the most dangerous and heartbreaking environments: war zones, and animal experimentation labs. Positive change is the ultimate goal of Artivist, and films such as Horse & Rider: A Journey Towards Freedom exemplifies this with its beautiful and lovingly rendered presentation of two young women's journey from child victims of sex trafficking towards becoming empowered, productive, and advocate members of society. Finally, Artivist delves deeply into the philosophy of just how much of a human being's personality and belief systems are created by the random factor of the location of a person's birthplace, as opposed to any other factor, with the USA premiere screening of Creating Freedom: The Lottery of Birth. To view the entire Artivist Film Festival program visit: http://www.ARTIVIST.com
The Artivist Film Festival and Awards are dedicated to recognizing the advocate efforts of international filmmakers. The festival also honors celebrity advocates and community leaders. Past honorees include Peter Fonda, Ted Danson, Alyssa Milano, Matthew McConaughey, Joaquin Phoenix, Olivia Wilde, Hank Azaria, Kristen Bell, James Cromwell, Mira Sorvino, Tippi Hedren, Mike Farrell, Ed Begley, Jr., Claes Nobel of the Nobel Prize Family, and many more.
This year's 2012 Artivist Award Honorees include:
MARIA BELLO – For Arts & Advocacy
Maria is not only a renowned celebrity actress starring in dozens of leading and co-leading roles such as the recent Prime Suspect (TV), Grown Ups 2 (Film), and producing the documentary Sun City Picture House, she is an advocate for women and children around the world. Working with the redevelopment agency 'Jacmel Development Group' of Haiti after the devastating Earthquake of 2010 has been one of Ms. Bello's top priorities. WE Advance, an NGO with The United Nations, is her latest project where she empowers thousands of women in Haiti to fight against GBV (Gender Biased Violence) and advance their human rights.
DEVON FRANKLIN – For Community Leadership
"I was so moved by DeVon's passion and commitment to faith while functioning in the lion's den of entertainment I could hardly wait to share his insights, clarity and wisdom", Oprah Winfrey on interviewing DeVon Franklin for OWN. DeVon Franklin is a rarity: an African-American studio executive at the forefront of Hollywood. As Vice President of Production for Columbia Pictures, he oversaw the remake of The Karate Kid, starring Jackie Chan and Jaden Smith, which grossed over $350 million worldwide. He also worked on The Pursuit of Happyness and Hancock, both starring Will Smith, the faith-based hit Not Easily Broken, produced by Bishop T. D. Jakes, the romantic comedy Jumping the Broom starring Angela Bassett, and the film Sparkle starring the late Whitney Houston. Revered by Oprah Winfrey, Bishop T. D. Jakes, Will Smith and many others, DeVon Franklin has green-lighted up-lifting films that have touched the lives of millions around the world. Mr. Franklin was named by The Hollywood Reporter as one of the top 35 executives under the age of 35, and as one of the top 10 industry impact players by the NAACP.
CHRISTINE DEVINE – International Children's Advocacy
For more than 20 years, American-Brazilian Christine Devine has been a dedicated champion for children's advocacy and community participation. Taking direction from her own parents who fostered children during her youth, Ms. Devine embraced a life-long affinity for finding children placement in loving homes. As a sixteen time (16x) EMMY Award Winner, and a News Anchor for FOX 11 News, Christine Devine has risen to prominence in her career. She joins the ranks of other influential women journalists who are members of The Good News Foundation. Ms. Devine has contributed more than 18 years of service as the segment host of Freddie Mac Foundation's "Wednesday's Child", a program which has yielded 450+ placements of foster children into loving homes. Christine has created program funding for tutoring, scholarships, and has been a champion for veterans, foster children, and underprivileged Angelinos. They have all had a prominent voice through Christine Devine.
S. BRIAN WILLSON – Lifetime Achievement in Advocating for International Peace
Symbolically born on the 4th of July in 1941, S. Brian Willson is an American Vietnam veteran, attorney-at-law, author, and a beloved international peace advocate. Mr. Willson served in the US Air Force from 1966 to 1970. He rose through the ranks to become an Air Force Captain. He subsequently became a member of Vietnam Veterans Against the War and Veterans For Peace. As a trained lawyer and writer, he has documented U.S. policy in nearly two-dozen countries; documenting the pattern of policies that he states, "violate U.S. Constitutional and international laws prohibiting aggression and war crimes".
On September 1, 1987, while engaging in a peaceful sit-in protest against the transportation of U.S. weapons to Central America, Mr. Willson was struck by one of the trains and lost both of his legs.
For more than 40 years, Mr. Willson has been an educator of nonviolence and a shining example of one man's quest for international peace. On September 26, 1992, S. Brian Willson was awarded the Peace Abbey Courage of Conscience Award at the John F. Kennedy Presidential Library.
The 9th Annual Artivist Film Festival and the 2012 Artivist Awards Gala Press Passes are available through request. Please contact Publicist, Francis Perdue at: francis(at)psmediatalent(dot)com.
Limited tickets are available to the public. To purchase your tickets today visit: http://www.ARTIVIST.com.
For sponsorship, marketing, and advertising opportunities in Los Angeles and New York City, contact Executive Producer - President, Diaky Diaz: diakydiaz(at)artivists(dot)org
ABOUT ARTIVIST
The name "ARTIVIST" is a combination of "Artist" and "Activist." Founded in 2003, Artivist is the only Film Festival dedicated to raising awareness for International Human Rights, Children's Advocacy, Environmental Preservation, and Animal Advocacy. The Artivist Film Festival and The Artivist Awards are produced by The Artivist Collective, Inc., a 501c3, Charitable, Non-Governmental Organization.
The Artivist Film Festival has been publicly endorsed by internationally recognized NGOs such as Amnesty International, Unicef - The United Nations Children's Fund, HSUS - Humane Society of the United States, Global Green, Greenpeace, American Red Cross, and many more.
In 2012, the UNITED NATIONS officially accepted the Artivist Collective, Inc., producer of the annual Artivist Film Festival and Artivist Awards, as an NGO member of the United Nations Department of Public Information (UN-DPI). Among the 7+ million NGOs operating worldwide, only 1,322, (less than 1%), are affiliated with the UN-DPI. The Artivist Collective, Inc. is now the only NGO within the entire UN-DPI whose main program is a Film Festival.
"By unabashedly and boldly encouraging filmmakers to combine art, entertainment, and social activism, ARTIVIST is breaking the rules of a long held industry standard that believes social messaging and entertainment are best kept respectfully apart. In so doing, ARTIVIST is fostering a growing movement of filmmakers using storytelling in new creative ways to effect and inspire positive change."
Peter Bratt, Filmmaker - LA MISSION