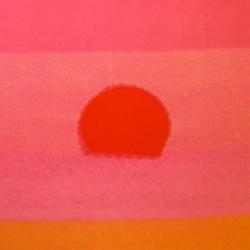 New York / Berlin / Paris (PRWEB) November 30, 2011
artnet Auctions presents Warhol in Florida, a selection of over 50 paintings, drawings, and prints by Andy Warhol, many with a tropical theme evoking the warm weather and beach views that will greet art lovers at Art Basel Miami Beach 2011. On December 1, artnet Auctions will sponsor an event with Interview magazine and the Warhol Museum at the Standard Hotel in Miami, FL, to view an unseen Warhol film, San Diego Surf.
One of the highlights of Warhol in Florida is Warhol portrait of a little boy catching a beach ball, Untitled (Beach Ball), 1984, an acrylic and silkscreen on canvas (Est. US$380,000–450,000). The boy's identity is unknown, but the portrait was most likely commissioned by dealer Bruno Bischofberger for one of his European clients.
Also of note is an outstanding Warhol print, entitled Sunset, 1972, a unique silkscreen in rosy hues of red, pink, and yellow (Est. US$25,000–30,000), created by the artist for architect Philip Johnson's Marquette Hotel in Minneapolis.
Two other Warhol works also elicit a Florida theme: a vibrant pink and violet Tacoma Daisy, 1982, a unique silkscreen that Warhol proposed to decorate the exterior of the Tacoma, Washington sports dome (Est. US$85,000–95,000), and the iconic Perrier, 1983 (US$45,000–55,000) a unique silkscreen on paper with a vibrant tangerine hue that came directly from the Warhol Estate.
An eye-popping hot pink and yellow silkscreen, Camouflage, 1987, is estimated at US$13,000–15,000. Since the 1980s, the Camouflage prints have continued to grow in popularity and significance, due in part to America's continued military presence in the Middle East.
Although not specifically a Florida subject, the late Elizabeth Taylor continues to be a reigning figure in our cultural zeitgeist, and was a source of continual fascination for Warhol. The auction features two sought-after artworks: the vintage Pop print Liz, 1964 (Est. US$45,000–55,000), and a unique black-and-white photograph, Untitled (Elizabeth Taylor at a party), 1981, (Est. US$12,000–15,000) that was acquired from the Warhol Estate.
Warhol in Florida is live for bidding on artnet Auctions from November 29 to December 6, 2011.
Visit the sale on artnet Auctions, at http://www.artnet.com/auctions/andy-warhol-sale.
For more information, please contact:
USA
Halie Jorgensen
+1-212-497-9700 ext. 163
HJorgensen(at)artnet(dot)com
Germany
Marie-Kathrin Krimphoff
+49 (0)30 20 91 78 40
MKrimphoff(at)artnet(dot)de
France
Florence Alexandre
+33 (0)1 42 86 67 16
FAlexandre(at)artnet(dot)fr
About artnet:
With 24/7 worldwide bidding, artnet Auctions is the world's first and only online auction platform to buy and sell modern and contemporary fine art, prints, photographs, and design. artnet.com has been online since 1995 and is host to approximately 2 million visitors each month. Through its Price Database of all auction sales results and artnet Galleries of all leading art galleries worldwide, artnet is the leading online resource for the international art market.
artnet.com | artnet.de | artnet.fr
Artnet Worldwide Corporation, 61 Broadway, 23rd Floor, New York, NY 10006-2701, USA
###