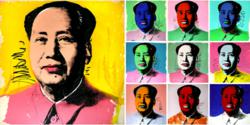 New York / Berlin (PRWEB) May 12, 2011
artnet Auctions is thrilled to announce an important offering of Andy Warhol's original, complete portfolio of 10 Mao color screen prints from 1972. Close analysis of past auction results reveals that the majority of Mao suites have been broken up, which adds to the rarity of this exquisite set. These works are coming to auction on the heels of Phillips de Pury's successful auction in April, which realized USD 938,500.
In the aftermath of President Richard Nixon's 1972 visit to China, and its subsequent buzz in the press, Warhol created a series of prints around the now immortalized image of the Chinese leader, Mao Zedong. Inspired by a parallel between Communist propaganda and American media, as well as the cult-like followings of Mao in the East and movie stars in the West, Warhol executed his Mao portrait series echoing his portraits of celebrities such as Marilyn Monroe and Elvis Presley. These brightly colored portraits of Mao, which were enhanced by the additions of layered graffiti-like scribbles screened on separately, transformed Mao into a worldwide pop icon. The Whitney Museum of American Art exhibited this portfolio in their wildly successful 1979 exhibition, Andy Warhol: Portraits of the 70s.
The majority of Mao prints that come up for sale have some degree of sun damage, fading, foxing, handling border/edge dings, and rippling, however, each impression in the portfolio offered on artnet Auctions is in mint condition. This portfolio was stored safely in a flat file at the original printers for nearly 40 years, and therefore retains all of the original color and quality.
Each impression is uniquely numbered and signed with a stamp on the verso by The Andy Warhol Foundation, "COPYRIGHT © ANDY WARHOL 1972 PRINTED AT STYRIA STUDIOS INC." Each impression is also accompanied by an individual certificate of authenticity by the Andy Warhol Art Authentication Board. Each work is museum mounted and framed with retro Kulicke 1970s-style plexi-boxes.
The lot is currently live for bidding on artnet Auctions and closes May 18.
For information, contact Synae Whang at +1-212-497-9700 ext. 798 or modernandcontemporary(at)artnet(dot)com.
Visit the sale on artnet Auctions: http://www.artnet.com/auctions/andy-warhol-mao.
About artnet:
artnet has been online since 1995 and is host to approximately 2 million visitors each month. Through its Price Database of over five million auction sales results and artnet Galleries of over 2,100 galleries worldwide, artnet is the leading online resource for the international art market. With artnet Auctions, artnet has added a transaction platform to its successful information services.
http://www.artnet.com | artnet.de | artnet.fr
Artnet Worldwide Corp., 61 Broadway, 23rd Floor, New York, NY 10006-2701, USA
###