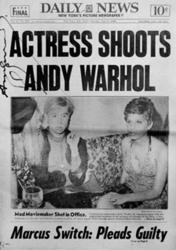 New York / Berlin (PRWEB) August 22, 2012
artnet Auctions presents the Ephemera Sale, an extensive auction of over 150 rare and unusual art collectibles, including many one-of-a-kind pieces.
One of the most significant works in the auction is the June 4, 1968 issue of the New York Daily News, the headline of which reads "Actress Shoots Andy Warhol." This issue was published the day after the artist was shot by radical feminist Valerie Solanas. The lot in this sale is the only known copy personally signed by Warhol (est. US$5,000–6,000).
The auction also features a bullet casing signed by Warhol, from the collection of Fred Hughes, Warhol's business manager and later the executor of his estate (est. US$1,000–1,500). Collectors of Warhol photographs will have a unique opportunity to acquire the original publisher's mock-up of the infamous 1976 book, Exposures, which contains unvarnished portraits of celebrities from the 1980s, including Bianca Jagger and Elizabeth Taylor. The book comes from Robert Loomis, the former executive editor at Random House (est. US$10,000–12,000).
Of great interest is a selection of important vintage Pop Art memorabilia, including Roy Lichtenstein's Foot and Hand offset lithograph from 1964 (est. US$9,000–12,000) and Crying Girl from 1963 (est. US$3,000–4000). The sale also includes a superb collection of rare vintage posters, such as Keith Haring's signed 1988 Shafrazi Gallery poster, on which he penned a small drawing of his eponymous dancing man (est. US$2,200–2,800).
Another notable piece in the sale is an early drawing by H. C. Westermann from 1969, Untitled (Palm Tree & Shark Fins) (est. US$5,000–8,000). A Westermann drawing from the 1960s has not appeared at auction in over 20 years. The subjects of this extremely rare drawing, palm trees and shark fins, refer to the artist's participation in the Pacific Theater. During his time as a gunner in the Marines, the artist witnessed countless kamikaze attacks and shark attacks. This piece is one of Westermann's most potent images, and represents a theme that the artist would return to repeatedly throughout his career.
Among the most coveted lots in the sale is a rare 1976 letter, handwritten by Robert Mapplethorpe to the art director of Playgirl Magazine to announce that he had finally been chosen by a gallery to show his photographs (est. US$5,000–7,000).
Finally, the sale also includes several unique clothing articles drawn on or created by artists. One of the most exciting is a denim jacket by Kehinde Wiley, made in collaboration with Bergdorf Goodman, featuring a screen-printed portrait on the back, with embroidered flourishes (est. US$4,000–6,000). A shirt decorated by Roy Lichtenstein in 1979 with his trademark Benday dots is another standout (est. US$7,500–8,500).
Visit the sale on artnet Auctions through August 28, 2012, at http://www.artnet.com/auctions/artists-ephemera-sale.
For more information, contact artnet Auctions specialists:
New York
Deborah Ripley
Senior Specialist, Contemporary Art
+1-212-497-9700 ext. 174
http://mailto:DRipley(at)artnet(dot)com
Berlin
Marie-Kathrin Krimphoff
Senior Specialist, Modern and Contemporary Art
+49 (0)30 20 91 78 40
MKrimphoff(at)artnet(dot)de
About artnet:
With 24/7 worldwide bidding, artnet Auctions is the world's first online auction platform to buy and sell Modern and Contemporary paintings, prints, photographs, sculptures, and more. artnet has been online since 1995, and is host to approximately 2 million visitors each month. Through the artnet Price Database of all auction sales results worldwide since 1985 and artnet Galleries, artnet is the leading online resource for the international art market.
artnet.com | artnet.de | artnet.fr
Artnet Worldwide Corporation, 233 Broadway, 26th Floor, New York, NY 10279-2600, USA