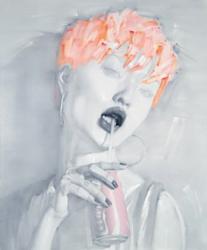 New York / Berlin / Paris (PRWEB) May 14, 2012
artnet Auctions presents The Many Faces of Asian Art sale, focusing on portraiture by Asian Contemporary artists. An important highlight of the sale is Liu Hong's Beauty-Lip Language No. 2 (2009), estimated from US$35,000 to US$45,000. Liu's large-scale oil paintings celebrate the beauty and individuality of her female contemporaries, combining the tradition of Chinese ink painting with Contemporary iconography. Other featured Chinese artists include Feng Zhengjie, Huang Yan, The Luo Brothers, Ma Liuming, Zeng Fanzhi, Zhang Dali, among others.
The sale also features Kim Dong-Yoo's Marilyn Monroe & John F. Kennedy (2007), estimated from US$40,000 to US $50,000. Functioning both aesthetically and conceptually, this painting depicts a close-up portrait of a glamorous, smiling Monroe, whose face is actually created from hundreds of thumbnail size portraits of United States president John F. Kennedy. Additional featured Korean artists include, Choi Xooang, Choo Yong-Wan, Shin Youngmi, and Chan-Hyo Bae.
Hiroyuki Matsuura's Boxman (2007) is an exciting example of the artist's anime-inspired acrylic figurative paintings, estimated from US$18,000 to US$20,000. Dynamic works by Japanese artists Ayako Rokkaku, and Maki Hosokawa, as well as notable photographs by Nobuyoshi Araki, will also be offered.
The Many Faces of Asian Art is live on artnet Auctions through May 24, 2012.
View all lots on artnet Auctions.
For more information, please contact:

Heather Russell, Senior Specialist, Modern and Contemporary Asian Art, at +1-212-497-9700 ext. 692 or at HRussell(at)artnet(dot)com
Patrick Regan, Specialist, Modern and Contemporary Asian Art, at +1-212-497-9700 ext. 175 or at PRegan(at)artnet(dot)com
Register to bid on artnet Auctions, at https://www.artnet.com/auctions/register-to-bid
About artnet Auctions:
With 24/7 worldwide bidding, artnet Auctions is the world's first online auction platform to buy and sell Modern and Contemporary paintings, prints, photographs, sculptures, and more. artnet has been online since 1995, and is host to approximately 2 million visitors each month. Through the artnet Price Database of all auction sales results and artnet Galleries of all premier art galleries worldwide, artnet is the leading online resource for the international art market.
artnet.com | artnet.de | artnet.fr
Artnet Worldwide Corporation, 233 Broadway, 26rd Floor, New York, NY 10007, USA