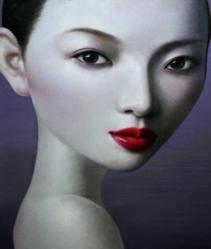 New York / Berlin / Paris (PRWEB) December 14, 2011
artnet Auctions announces Chinese Contemporary Realism: Select Paintings, a select offering of paintings by several of today's leading Chinese Contemporary artists. Several paintings are offered for sale to the collecting public for the first time, coming directly from various private collections or from the artists themselves. Chinese artists of the sale include Huang Yong (b.1968), Ling Jian (b.1963), Liu Baomin (b.1968), Liu Hong (b.1956), Liu Wei (b.1974), Ren Rong (b.1960), Su Zhihan (b.1972), and Tu Hongtao (b.1976) amongst others.
Leading the sale is a major—and visually stunning—oil painting, Beijing, Jing, Jing (2008), by famed Chinese Contemporary artist Ling Jian. One of the pioneers of the Contemporary Realist movement in China, Ling's photorealist paintings are recognized by scholars and collectors alike as important and timeless, and a great influence on the new and younger generations of Chinese Realist painters. This Contemporary Chinese painting is new to the secondary art market and comes to the sale from a private collection.
Rounding out the sale is a masterpiece by internationally acclaimed artist Liu Hong, Lip Language No. 3-Sensuosity (2010), which is one of the most visually arresting and sensual examples from her ongoing Lip Language series of oil paintings, with an estimate of US$43,000–52,000. Another exciting highlight is Extreme Illusion-A Beauty of Stage (2011), a new, large oil painting by Liu Baomin. This sublime painting of a woman seated amongst bamboo leaves and lotus blossoms is Liu's most ambitious and visually complex painting to date, and has a pre-sale estimate of US$35,000–45,000.
Additional highlights include a major, visually intense oil painting by rising star Liu Wei, Hoist Tiananmen Square for One Thousand Meters (2011), with a pre-sale estimate of US$70,000–85,000. Two rare, figural oil paintings by Chinese master Huang Yong, as well as important works by Ren Rong, Tu Hongtao, and Su Zhihan are additional highlights of the sale.
Chinese Contemporary Realism: Select Paintings is live for bidding on artnet Auctions from Wednesday, December 14 to Wednesday, December 21, 2011.
Visit the sale at http://www.artnet.com/auctions/chinese-contemporary-paintings-sale.
For more information, please contact the specialists below.
USA
Heather S. Russell
+1-212-497-9700 ext. 692
HRussell(at)artnet(dot)com
Germany
Marie-Kathrin Krimphoff
+49 (0)30 20 91 78 40
MKrimphoff(at)artnet(dot)de
France
Florence Alexandre
+33 (0)1 42 86 67 16
FAlexandre(at)artnet(dot)fr
About artnet:
With 24/7 worldwide bidding, artnet Auctions is the world's first and only online auction platform to buy and sell Modern and Contemporary Fine Art, prints, photographs, and Design. artnet has been online since 1995 and is host to approximately 2 million visitors each month. Through the artnet Price Database of all auction sales results and artnet Galleries of all premier art galleries worldwide, artnet is the leading online resource for the international art market.
artnet.com | artnet.de | artnet.fr
Artnet Worldwide Corporation, 61 Broadway, 23rd Floor, New York, NY 10006-2701, USA
###