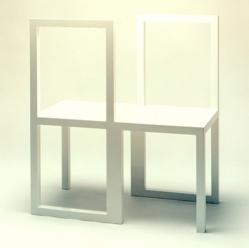 New York / Berlin / Paris (PRWEB) September 23, 2011
artnet Auctions announces Design: Furniture by Artists, a selection of furniture by Modern and Contemporary Fine Art artists. Featuring the work of renowned artists, such as Donald Judd, Man Ray, Robert Wilson, Salvador Dalí, Lawrence Weiner, and Tom Sachs, this auction highlights important aspects in the artists' careers where artistry intersects with functionality.
Highlights of the Design: Furniture by Artists sale include three important works by leading avant-garde theater stage designer and artist Robert Wilson, who celebrates his 70th birthday on October 4. Originally produced for Wilson's theatrical production Cosmopolitan Greetings in 1988, and produced in an edition of 12, Wilson's Bessie Smith Chair (Est. US$25,000–35,000) was designed as a Minimalist tête-à-tête and is a symbolic representation of the famous jazz singer's marriage as told in Wilson's production. In Table/Shelf (Est. US$5,500–8,500) American Minimalist sculptor Donald Judd (1928–1994) combines the aesthetic of his iconic metal wall boxes with the functionality of a furniture piece. Shopping Cart Chair (Est. US$5,000–7,000) by Contemporary American artist Tom Sachs (b.1966) playfully comments on consumerism and pop culture.
Rounding out the sale are several works by the subversive Austrian artist, Franz West (b.1947), including Privat Lampe Des Kunstlers I (Est. US$4,000–6,000), a Spartan floor lamp that exemplifies West's use of raw and found objects to create unembellished three-dimensional objects. Also featured are important works from the Simon International Ultramobile (Beyond Furniture) series, such as Le Témoin (Est. US$3,000–4,000) by Surrealist artist Man Ray (1890–1976), who takes a seemingly benign sofa and screenprints an all-seeing eye on the bottom, creating a domestic object that is at once familiar and threatening.
The Design: Furniture by Artists sale is currently live for bidding on artnet Auctions until Thursday, September 29.
Highlights include:
Robert Wilson
Bessie Smith Chair, 1988
Oak wood with white lacquer, ed. of 12
39.4 x 35.4 x 17.8 in.
Est. US$25,000–35,000
Donald Judd
Table/Shelf, 2008
Painted aluminum
29.5 x 19.75 x 19.75 in.
Est. US$5,500–8,500
Tom Sachs
Shopping Cart Chair, 1980
Welded handles, cut and sculpted metal
41 x 26 x 37 in.
Est. US$5,000–7,000
Franz West
Privat Lampe Des Kunstlers I, 1989
Welded iron chain floor lamp with black-gray patina
75.6 x 92.5 x 7.9 in.
Est. US$4,000–6,000
Man Ray
Le Témoin, 1971
Padded plywood frame, synthetic leather, screenprinted methacrylate
27.6 x 59.4 x 1.7 in.
Est. US$3,000–4,000
Visit the sale on artnet Auctions at http://www.artnet.com/auctions/design-furniture-by-artists.
For more information, please contact the specialists below.
USA
Brent Lewis
+1-212-497-9700 ext. 581
BLewis(at)artnet(dot)com
Germany
Marie-Kathrin Krimphoff
+49 (0)30 20 91 78 40
MKriphoff(at)artnet(dot)de
France
Florence Alexandre
+33 (0)1 42 86 67 16
FAlexandre(at)artnet(dot)fr
About artnet:
With 24/7 worldwide bidding, artnet Auctions is the world's first and only online auction platform to buy and sell Modern and Contemporary Fine Art, prints, photographs, and Design. artnet has been online since 1995 and is host to approximately 2 million visitors each month. Through the artnet Price Database of all auction sales results and artnet Galleries of all premier art galleries worldwide, artnet is the leading online resource for the international art market.
artnet.com | artnet.de | artnet.fr
Artnet Worldwide Corporation, 61 Broadway, 23rd floor, New York, NY 10006-2701, USA
###