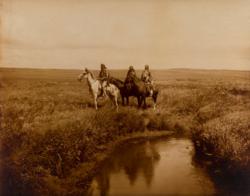 New York / Berlin / Paris (PRWEB) October 19, 2011
artnet Auctions announces an unprecedented sale of works by Edward Sheriff Curtis. This sale is unique in auction history; it is the first time that so many high-quality vintage Curtis' prints are being offered together at a single auction. All works are in excellent condition and have an impeccable provenance, drawn exclusively from the holdings of the world's leading Curtis expert and collector, Christopher Cardozo. From a collector/connoisseur's perspective, this is a rare opportunity to acquire important works with absolute confidence of a quality and condition never found before on the market.
Curtis is the renowned ethnographer and photographer who preserved for posterity a powerful visual record of the beauty, heart, and spirit of Native Americans and their way of life. Curtis' artistry is widely recognized, and he is one of the most collected photographers.
The sale comprises over 50 lots with an overall estimated value of US$850,000 to US$1.1 million. These vintage photographs richly represent the scope of Curtis' project, with a strong emphasis on subjects from the Great Plains and Plateau regions of the United States. There is also a unique series on the Hopi tribe (Est. US$80,000 to US$120,000) that contains 21 vintage prints, many rare or unique. Also featured is a collection of 10 rare items of Curtis ephemera offered in a single lot (Est. US$5,000–7,000). All the media in which Curtis worked are represented: photogravure, platinum, gelatin silver, goldtone, and cyanotype—another auction first. The sale includes a number of iconic and sought-after Curtis' photographs, some of which in more than one medium. Highlights include The Three Chiefs – Piegan, c.1900, a gold toned printing-out-paper print (Est. US$100,000–120,000); A Hopi Man, 1904/1921, a photogravure on Gampi tissue paper (Est. US$14,000–18,000); A Walpi Man, 1900/c.1903, platinum (Est. US$75,000–100,000); An Oasis in the Badlands – Sioux, 1905, in several media, including a hand-colored platinum print (Est. US$16,000–20,000), a photogravure on Japanese vellum (Est. US$40,000–50,000), a platinum print (Est. US$10,000– $12,000), and a gelatin silver print (Est. US$12,000–15,000); Assiniboin Mother and Child, c.1926, a photogravure print on Gampi tissue paper (Est. US$6,500–8,500); Canyon de Chelly – Navaho, c.1904, platinum (Est. US$20,000–25,000); Nez Perce Brave, c.1905, platinum (Est. US$50,000–55,000); The Vanishing Race – Navaho, c.1904, platinum (Est. US$20,000–30,000); Untitled (Curtis with Whale), c.1914, gelatin silver (Est. US$6,500–7,500); Zuni Governor, c.1925, gelatin silver (Est. US$30,000–40,000); and Before the Storm – Apache, 1906, goldtone (Est. US$20,000–30,000).
The Edward Sheriff Curtis sale runs from October 18th to October 25th.
For more information, please contact the specialists below.
USA
Christopher Sweet
+1-212-497-9700 ext. 165
CSweet(at)artnet(dot)com
Germany
Marie-Kathrin Krimphoff
+49 (0)30 20 91 78 40
MKriphoff(at)artnet(dot)de
France
Florence Alexandre
+33 (0)1 42 86 67 16
FAlexandre(at)artnet(dot)fr
Visit the sale on artnet Auctions: http://www.artnet.com/auctions/edward-sheriff-curtis-photograph-sale.
About artnet:
With 24/7 worldwide bidding, artnet Auctions is the world's first and only online auction platform to buy and sell Modern and Contemporary Fine Art, prints, photographs, and Design. artnet has been online since 1995 and is host to approximately 2 million visitors each month. Through the artnet Price Database of all auction sales results and artnet Galleries of all premier art galleries worldwide, artnet is the leading online resource for the international art market.
artnet.com | artnet.de | artnet.fr
Artnet Worldwide Corporation, 61 Broadway, 23rd Floor, New York, NY 10006-2701, USA
###