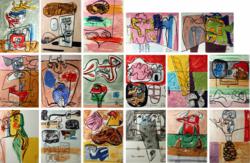 New York, Berlin and Paris (PRWEB) June 14, 2011
Today artnet Auctions sold Le Corbusier's complete 1953 Unité prints portfolio (with additional black and white set) for the record price of US$57,500. Complete Le Corbusier prints sets rarely appear at public auction. Only the first 30 of the 130 portfolios of this edition contain the full 37 prints: 17 color prints and 20 black and white prints on Rives BFK paper. The pristine condition and historical significance of this Le Corbusier prints portfolio attracted a great deal of interest from an international audience. According to Brent Lewis, head of design auctions at artnet Auctions, "Unité was included in our inaugural design auction, launched this May. We were thrilled to see such active interest, both from traditional art collectors and the design community, who are excited to find a new venue to buy and sell design alongside paintings, sculpture, prints and photographs."
Le Corbusier was one of the fathers of Modern architecture, and is best known for his pioneering work in the International Style, but he was also a celebrated designer, painter, and printmaker. The Unité prints portfolio was conceived and printed following the construction of the Unité d'habitation in Marseilles. Mohindra N. Kawlra was a renowned Modernist architect who spent much of his career working in Paris and New York. In the late 1950s he worked directly with Le Corbusier along with architects Vladimir Bodiansky and George Henry Pingusson. In the 1960s he took up residence in New York and shortly thereafter purchased the Unite portfolio.
For information, contact Synae Whang at +1-212-497-9700 ext. 798 or prints(at)artnet(dot)com.
Visit the sale on artnet Auctions: http://www.artnet.com/auctions/Pages/Lots/49080.aspx.
About artnet:
artnet Auctions is the world's leading Internet auction platform to buy and sell modern and contemporary fine art, prints, photographs and design. artnet.com has been online since 1995 and is host to approximately 2 million visitors each month. Through its Price Database of over five million auction sales results, and artnet Galleries of over 2,100 galleries worldwide, artnet is the leading online resource for the international art market.
http://www.artnet.com | artnet.de | artnet.fr
Artnet Worldwide Corp., 61 Broadway, 23rd Floor, New York, NY 10006-2701, USA
###