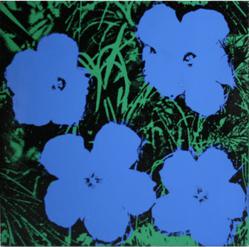 New York, Berlin, & Paris (PRWEB) July 09, 2011
artnet Auctions will present "Masterworks by Pop Artists," a selection of important Pop paintings, prints, and sculptures by Andy Warhol, Roy Lichtenstein, Mel Ramos, Tom Wesselmann, Robert Rauschenberg, and other top Pop artists.
A highlight of the sale, an extremely rare Andy Warhol painting in brilliant tones of blue and green entitled Flowers, 1978, 22 x 22 inches, is expected to fetch between US$1,100,000–1,500,000. In a private collection since 1994, it is one of only four Flowers paintings from this period recorded by The Andy Warhol Foundation archive. Also of great interest is an exceptionally beautiful John Chamberlain painted and chromium-plated steel sculpture entitled Mrs. Yif Nif, 1986, (Est. US$3,000,000–3,500,000). Measuring 77 x 56 x 35 inches, this commanding work comes from the prestigious Douglas Cramer collection.
Two outstanding works on paper by the artist Robert Rauschenberg are also included in the sale. Anagrams-Casino, 1996, is a monumental vegetable dye transfer. This work is considered a prime example of the artist's transfer method, with images shifting back and forth between abstraction and representation (Est. US$550,000–700,000). The second Rauschenberg, Untitled, 1978, is a mixed-media collage (Est. US$75,000–85,000). Given by the artist to the current owner, the piece is filled with autobiographical references including the seemingly random image of a tire. When asked why he included this, Rauschenberg replied that it was through cars—tires—that he was able to get out of his hometown of Port Arthur, Texas.
Highlights of the auction are two exquisite oils on canvas by Tom Wesselmann. Study for GAN #96 (Tit Version), 1967, (Est. US$180,000–220,000), shows the artist exploring his iconic subject the Great American Nude, which he abbreviated as GAN. Ten years later, the artist created Study for Bedroom Painting, 1977, (Est. US$190,000–210,000). This pop artwork is from a landmark series in which the artist altered the composition of his Bedroom Paintings, with the foreground dominated by a woman's face, but still undeniably a nude.
The sale also includes Roy Lichtenstein's iconic Pop Art print, Sweet Dreams Baby, 1965. This highly desirable print, in impeccable condition, with brilliant reds and yellows, is estimated at US$100,000–120,000.
Rounding out the sale is a large atmospheric acrylic on canvas by the rediscovered Pop artist, John Wesley. Night Landing, 1983, (Est. US$200,000–250,000), highlights the artist's reductive palette and exaggerated perspective that make him highly sought after by both Pop and Contemporary Art collectors alike.
Pop Masterworks is live for bidding on artnet Auctions July 13–20, 2011 and includes works such as:
Andy Warhol
Flowers, 1978
Acrylic and silkscreen inks on canvas
22 x 22 in.
Est. US$1,100,000–1,500,000
John Chamberlain
Mrs. Yif Nif, 1986
Painted and chromium-plated steel
77 x 56 x 35 in.
Est. US$3,000,000–3,500,000
Robert Rauschenberg
Anagrams-Casino, 1996
Vegetable dye transfer on paper sheet
60.38 x 96.5 in.
Est. US$550,000–700,000
Robert Rauschenberg
Untitled, 1978
Mixed media, solvent transfer, fabric on paper
30.5 x 23 in.
Est. US$75,000–85,000
Tom Wesselmann
Study for GAN #96 (Tit Version), 1967
Oil on canvas
8 x 10 in.
Est. US$180,000–220,000
Tom Wesselmann
Study for Bedroom Painting, 1977
Oil on canvas
7.88 x 10.38 in.
Est. US$190,000–210,000
Roy Lichtenstein
Sweet Dreams Baby, 1965
Screenprint
37.6 x 27.6 in.
Est. US$100,000–120,000
John Wesley
Night Landing, 1983
Acrylic on canvas
60 x 60 in.
Est. US$200,000–250,000
Find these and other Pop artworks in the sale on artnet Auctions: http://www.artnet.com/auctions/pop-masterworks.
For information, please contact Synae Whang at +1-212-497-9700 ext. 798, SWhang(at)artnet(dot)com.
From Europe, please contact Marie-Kathrin Krimphoff at +49 (0)30 20 91 78 40, MKriphoff(at)artnet(dot)de.
About artnet:
With 24/7 worldwide bidding, artnet Auctions is the world's first and only online auction platform to buy and sell modern and contemporary fine art, prints, photographs, and design. artnet.com has been online since 1995 and is host to approximately 2 million visitors each month. Through its Price Database of all auction sales results and artnet Galleries of all leading art galleries worldwide, artnet is the leading online resource for the international art market.
http://www.artnet.com | artnet.de | artnet.fr
Artnet Worldwide Corporation, 61 Broadway, 23rd Floor, New York, NY 10006-2701, USA
###