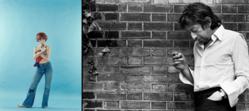 New York / Berlin / Paris (PRWEB) November 10, 2011
artnet Auctions announces the sale of nine rare and beautiful works by photographer Tony Frank (French, b.1945) to commemorate the 40th anniversary of the legendary album, Histoire de Melody Nelson, by iconic French singer and artist Serge Gainsbourg (French, 1928–1991). This photographs sale includes the memorable album cover, which contributed to Melody Nelson's stature in French culture, and will only be on artnet Auctions until November 16, 2011.
Histoire de Melody Nelson is a pop music concept album inspired by the series of rock operas that appeared around the mid-1960s in the United States and Great Britain, released by acts such as Frank Zappa, Pretty Things, Small Faces, The Who, and The Kinks. While the Melody Nelson album booklet was entirely written by Gainsbourg, the music was the result of collaboration with orchestra conductor Jean-Claude Vannier. Its storyline begins with an accident: The passionate love affair resulting from a chance collision between a man driving a Rolls Royce and a young English girl, named Melody Nelson, riding a bicycle. The story also ends with an accident: the plane that brings Melody back home crashes. Similar to the followers of the "cargo cult" practiced in remote parts of New Guinea, the man starts to believe that a plane will crash in front of him, to bring Melody back.
For the cover of his album, Gainsbourg reached out to Tony Frank, with whom he had already worked a number of times. In 1971, Frank was a very sought-after photographer by magazines promoting the Yé-yé movement, and by record companies. Frank had been following Gainsbourg since 1963, with a very keen interest in this "disillusioned dandy." Without hesitation, Frank accepted Gainsbourg's invitation of working together, and their relationship quickly evolved into friendship. The photographs Frank created for Histoire de Melody Nelson, and also the small book published by Eric Losfeld for the album's release in March 1971, contributed to the cult of Gainsbourg. The image of Jane Birkin posing with her toy monkey was also used for the 1969 "Orang-Outan" single, from the Jane Birkin/Serge Gainsbourg album which also included the worldwide hits "Je t'aime… moi non plus" and "69 année érotique." In some of these photographs, one can notice Birkin's slightly round belly, pregnant with her daughter by Gainsbourg, Charlotte.
For this sale, artnet Auctions presents nine original Tony Frank's photographs, each signed and numbered, taken from the Legendre studio sessions in Paris, January 1971. Among these works is Gainsbourg's personal selection for the album cover, a large size print numbered 2/7 (Est. US$6,000–8,000), and the inside cover, numbered 3/20 (Est. US$4,000–5,000). Other photographs include variations of these works and promotional images, mostly used for English and French magazines.
The Tony Frank photographs sale for the 40th anniversary of Serge Gainsbourg's 'Melody Nelson' runs November 9–16, exclusively on artnet Auctions.
For more information, please contact the specialists below:
USA
Christopher Sweet
+1-212-497-9700 ext. 165
CSweet(at)artnet(dot)com
Germany
Marie-Kathrin Krimphoff
+49 (0)30 20 91 78 40
MKriphoff(at)artnet(dot)de
France
Florence Alexandre
+33 (0)1 42 86 67 16
FAlexandre(at)artnet(dot)fr
Visit the sale on artnet Auctions: http://www.artnet.com/auctions/artists/tony-frank/.
About artnet:
With 24/7 worldwide bidding, artnet Auctions is the world's first and only online auction platform to buy and sell Modern and Contemporary Fine Art, prints, photographs, and Design. artnet has been online since 1995, and is host to approximately 2 million visitors each month. With the artnet Price Database and artnet Galleries artnet is the leading online resource for the international art market.
artnet.com | artnet.de | artnet.fr
Artnet Worldwide Corporation, 61 Broadway, 23rd Floor, New York, NY 10006-2701, USA
# # #