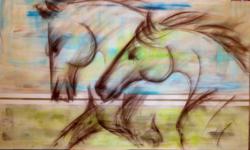 These paintings highlight the elegant yet simple element of forward movement that is inherent in all horse energy.
Scottsdale, AZ (PRWEB) April 10, 2013
Contemporary artist Donna B (http://donnabernstein.com) is bringing her modern equine art to the Gallery at the Brown beginning April 12, where it will be the centerpiece of the Gallery's annual Derby Art Show, running through May 19.
Donna will be present at the Gallery during an opening reception on Friday, April 12 from 6 to 8pm, when she will unveil new works and then again at Derby time, when the Gallery will greet Derby guests from around the world. The Gallery at the Brown is located in the historic Brown hotel in Louisville, Kentucky.
Of her one woman show for the Kentucky Derby, Donna says, "These paintings highlight the elegant yet simple element of forward movement that is inherent in all horse energy; perfectly appropriate to honor the "Run for the Roses.""
Donna B's approach to her equine art is distinctive and combines a passion for the anatomical horse with a love of both classic gestural drawing and what she calls "the element of surprise." Using an intuitive and athletic process, she splashes, sprays and throws acrylics, water and ink to create contemporary forms of the classically beautiful animals.
Coinciding with the Derby Art Show, as well as the Kentucky Oaks at Churchill Downs and Kentucky Derby Day, Donna B will be painting her equine art live at the Fourth Annual Ferdinand's Ball (http://www.ferdinandsball.com) on May 2 at the Muhammad Ali Center in downtown Louisville. The resulting painting will be auctioned off to benefit the Old Friends Equine Retirement Facility. This will be Donna's third year of involvement with the Ball.
Donna is a New York native who now divides her time between Scottsdale, Arizona and McCall, Idaho; maintaining seasonal painting studios in both locations. Her work is in numerous private and public collections and represented by several galleries, including The Adamson Gallery, Sacramento, CA; Gallery Noir, Dallas, TX; and Alexander Salazar Fine Art, San Diego, CA.
For many years Donna has dedicated a portion of her work to charity and supports causes such as The Center for Family Safety and Healing, The Permanently Disabled Jockeys Fund, The Arizona Humane Society and Ferdinand's Ball, among others. Most recently she participated in Celebrity Fight Night help raise money for the Muhammad Ali Parkinson Center at the Barrow Neurological Institute, along with other prominent charities.
To learn more about Donna B and her urban equine art, visit donnabernstein.com and follow her on Facebook (DonnaBernsteinFineArt) and Twitter (@DonnaB_Art).
About Donna B Fine Art
Donna B's paintings and sculptures (http://donnabernstein.com) are shown throughout the country and collected around the world. Whether in a private home, corporate setting or hospitality installation, Donna's paintings complement their surroundings and convey intense energy and emotion, always in keeping with the client's aesthetic. A complete listing of galleries, collections and events can be found on the website.
About Gallery at the Brown
Gallery at The Brown (http://www.brownhotel.com) features local artists quarterly to bring awareness to Kentucky's visual arts scene. Located on the first floor of the hotel, Gallery at the Brown Hotel is open Monday through Friday from 8 a.m. to 9 p.m. and 10 a.m. to 6 p.m. on Saturday and Sunday. Admission is free.