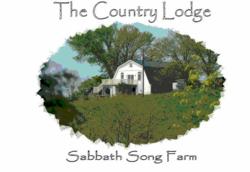 Sharing art, which is my passion, along with our beautiful Country Lodge, creates an atmosphere of relaxation and truly In-Joyment," said Carolyn Boatman.
Brooksville, KY (PRWEB) April 08, 2013
When artist, writer and speaker Carolyn Boatman decides to produce something wonderful, she pulls out all her creative energies and plunges forward. With the help of two other insightful women, Barbara Evans and Susan Newton, they have planned a weekend filled with introspection and soul-searching techniques. Carolyn and Susan together have created the Art of In-Joyment weekend model and hope to duplicate it in other cities around the country. Geared to both women and men who are open to finding guidance from spiritual realms and from their own inner wisdom, the weekend will be dedicated to The Art of In-Joyment, using many different art methods for expression and relaxation.
Carolyn Boatman is best known for her unique art abilities with many different mediums. From mosaic paper prints, to painting, to creating with glass, metal and clay, her work has been featured in galleries around the area and sold across the country. Her Country Lodge at Sabbath Song Farm, a bed and breakfast by design, has attracted a number of different artistic groups: Scrapbookers, quilters, painters and photographers. Her Garden Art Studio, on the lower level of The Country Lodge, accommodates artists of all sorts with spacious tables, easels, and where Carolyn regularly holds classes and demonstrations teaching her techniques.
During the Art of In-Joyment weekend, Carolyn will be directing two classes. Her unusual and very popular "Soul-Print" Class will inspire a Soulfull joy and a Playfull life. The art of Soul Prints is especially interesting to artists and non-artists as Carolyn leads the class on an Intention Meditation. Participants will have the opportunity to make (or purchase premade) Carolyn's own special essential oil, named appropriately Dream Finder. Guests will be creating their own oil diffusers in a Sunday afternoon workshop.
Barbara Evans, author and Transformational Healing Artist, as well as the founder of The Eden Method…The Art of Raising Frequency™ will be guiding guests through a journey of vibrations, or key frequencies of the New Earth. By meditation of Light and Sound, Barbara will help you discover and describe the beauty of Mandala (the beauty of self and inner harmony). Each participant will be coloring two Mandalas from Barbara's new journal, Shades of Eden, and will take these two Mandalas home with them.
Barbara will also offer private channeling sessions with interested guests in a highly transformational session designed to awaken the inner essence. As an energy healing session, it offers guidance, clarity and empowerment allowing the guest to connect to their true self and a path to achieving their full potential.
Susan Newton, author of Living in the Light…A Divine Perspective and Guide to Living a Peaceful Life is a Self- Empowerment mentor, medium and interactive verbal channel of a collective called Electra and Friends. She is well known for sharing messages of empowerment, insights, wisdoms, truths and teaching from the spiritual realm that facilitate the remembrance and reconnection of your own Divinity. Both Susan's services and book Living In the Light are 2013 Spirited Women Top Twelve Picks. She is the founder of the Empowerment Through Presence Process and the co-founder of the Art of In-Joyment events. She is also the host of Living in the Light internet radio and TV programs. Throughout the weekend, Susan will be speaking /channeling with the group to provide Energetic Shifts and alignments that allow for joy and confidence to flow into their daily lives. She will also be conducting private sessions upon request on Sunday.
Surrounding the weekend's activities will be live music by Dr. Kurt Kailash. Dr. Kurt "Kailash" Bruder (Ph.D., M.Ed.) is a communication scholar-teacher, a trained psychotherapist, and a student of spiritual development. He is the author/recording artist of Following Sound into Silence: Chanting Your Way Beyond Ego into Bliss (2008, Hay House).This talented musician will be performing several times, including around the campfire, on a hayride and at lunch in the meadow on Saturday. He will be offering a special class on Saturday afternoon. He believes everyone should "find something worthy of your love, give yourself to that completely, and enjoy the benefits of a life aglow with Radiant Awareness and Care." His philosophy fits in perfect harmony with the tone and atmosphere of the weekend.
The weekend activities are designed to bring relaxation, peace, fun and creativity all rolled into one. Beginning on Friday evening, the event runs through Sunday afternoon. The accommodations at the Country Lodge are comfy-cozy and all meals are provided. Food is Country Gourmet, many of which are Carolyn's own delicious recipes. She is finalizing a cookbook entitled Weekends in the Country which will be available in September, promising to be filled with her artwork, stories and recipes.
To attend the Art of In-Joyment Retreat at the Country Lodge at Sabbath Song Farm, visit their web site at http://www.sabbathsongfarm.com. Space is limited for this exciting weekend and reservations are required.
The Country Lodge at Sabbath Song Farm is located at 1331 Toadvine Road, Brooksville, KY 41004. It is less than 100 miles from Cincinnati, Indianapolis, Lexington, Louisville, Dayton and Charleston, WV. It is less than an hour's drive from the Greater Cincinnati and Northern Kentucky Airport.
For more information contact
Carolyn Boatman
cboatman(at)isoc(dot)net
606-735-9914