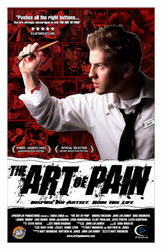 The film is just different!
Chicago (PRWEB) May 19, 2008
The Art of Pain, a black comedy featuring ninjas, zombies and a starving artist will sneak preview at Chicago's Music Box Theatre, at midnight Saturday May 24th. The brand new Chicago-produced film is on the lookout for distributors, festivals and reviews. With a rapidly growing fan base and an avid myspace community, Chicagoans are wondering, "Why all the buzz?"
"The film is just different!" states Matt Brookens, the writer and director. "I loaded The Art of Pain with genre elements for film geeks like me: action, comic book, zombie and that Kevin Smith Talkie feel. At the same time, I made damn sure to service what I felt to be a poignant story depicting motivation. The portrayal of great pain stimulating creativity is a subject that has always intrigued me."
The film's story sounds simple enough - A starving artist working at a movie theater finds inspiration when an amateur ninja sets out to destroy his life. But the idea requires an ensemble of talented (though undiscovered) actors who are required to hop from funny to serious on cue. As if this weren't challenge enough, these same actors are thrust into roles of action stars. "I really thought I was gonna get stabbed!" jokes John LaFlamboy who plays the film's greaser/ninja antagonist.
Apparently, undiscovered actors are not a problem for America's most respected cult review site, FilmThreat.com. Editor http://filmthreat.com/index.php?section=reviews&Id=10874 was lofty as it could get: five out of five stars. It is a little known secret that films getting the Five Stars from Film Threat find doors opening for them thereafter, especially on the festival circuit.
Premiering in March, The Art of Pain won the Audience Award at the Sunscreen Film Festival in St. Petersburg Florida. Sunscreen is a fast growing destination festival that has managed to rope in such prestigious guests as John Travolta, Steven de Souza (author of Die Hard), and Timothy J. Sexton (nominated for an Adapted Screenplay Oscar for his work on Children of Men.) The Art of Pain clearly resonated with the younger indie-loving vacationers attending Sunscreen.
The Art of Pain's completion marks the first feature by Brookens. Shot in Chicago on HD using predominantly local cast and crew, the film is a collaboration between three companies: Zabba Zabba, Upressplay and Big Tree Productions. All three award winning companies have a history of comedy and zombie projects.
The Saturday May 24th midnight screening at the Music Box Theatre (3733 N. Southport Ave. | Chicago, IL 60613) will be the first time most of the film's cast and crew will see the film. There will be a Q&A, prizes and a slew of ninjas and zombies causing mayhem in the lobby. Proceeds will be allocated to festival submissions and attendance.
For more information on The Art of Pain, including trailers, downloads, screening dates and contact info, go to http://www.artofpainmovie.com
###