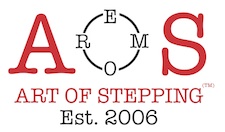 "We are confident that our journey together will elevate awareness and garner a new wave of individuals who love sneakers and are able to use their obsession to help the less privileged."
New York, New York (PRWEB) February 22, 2012
Social media and athletic sportswear company, Sneakerchange, joined forces with The Art of Stepping for its Sneakers 2 Succeed campaign (S²) to continue to promote the initiative, expand its markets, and visually document the campaign.
Providing a visual platform for the sneaker-obsessed, Sneakerchange creates innovative and compelling social media campaigns for retail and corporate brands. Sneakerchange is dedicated to giving back to the community and supports initiatives such as those that Art of Stepping represents in their fight against childhood obesity.
The (S²) campaign is a yearlong initiative that collects gently used sneakers for families and children in need. With the new partnership with Sneakerchange, (S²) secured seven new drop off locations throughout New York, including Brooklyn, Queens, Manhattan, and the Bronx. Donated sneakers are collected from the drop off locations monthly and distributed amongst 14 national and local charities and organizations that provide families in need with basic necessities.
"The Art of Stepping has had a successful run in the past six months promoting the Sneakers 2 Succeed initiative. When considering a partner, there was no doubt that Sneakerchange would be a great fit," said Jessica Saul, AOS founder. "We are confident that our journey together will elevate awareness and garner a new wave of individuals who love sneakers and are able to use their obsession to help the less privileged."
Sneakerchange founders Henry Sufran and Kenny Luna added, "With recent news coverage of people rioting and looting over a pair of popular sneakers, Sneakerchange and the Sneakers 2 Succeed campaign showcase the positive motive that can be achieved through the donation of sneakers."
For additional information about Sneakerchange, please visit http://www.Sneakerchange.com
For additional information about the (S²) campaign, please visit http://www.ArtOfStepping.org
About:
Art of Stepping™ is a national organization that provides interactive and exclusive curriculum based programs that teach stepping through mathematical formulas. The organization is owned by Remo Production, Inc. and founded by Jessica "REMO" Saul. AOS currently has operations in New York, Los Angeles, and Illinois. AOS is the 1st organization in the nation to set about building a nationwide K-12 curriculum based after-school stepping program which focuses on: Fighting Childhood Obesity and Learning Mathematics via the Art of Stepping™.
###