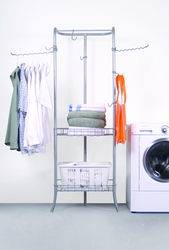 Needham Heights, MA (PRWEB) August 4, 2008
The Art of Storage, the collection of home storage products designed to help solve organization challenges, introduces the Goya Laundry and Mudroom Organizer and Storage Rack (MSRP $149.99) -- the all-in-one organizer for backpacks, sports gear, shoes, coats and more. To help organize the "clutter" that is part of every day life, the Goya Storage Rack can easily transform any space into an instant mudroom, transition room or commuter station.
The Goya Laundry and Mudroom Storage Rack is a self-contained structure that can be easily transported depending on where clutter needs most control. It is also suitable for the laundry room to hang drying clothes, stack folded items and organize laundry products (image available upon request).
The Goya Mudroom & Laundry Storage Rack includes sturdy coil gravity hooks that are used to hang light objects such as coats to heavier items like backpacks (can hold up to 30 pounds). The patent-pending coil design allows the hooks to be easily adjusted up and down the structure to maximize space. Wire shelving on the bottom is reserved for stacking shoes or arranging plastic bins for storage of items like hats, gloves, and small electronics.
The Delta Design team has been providing the sporting goods industry with innovative cycling products for the past 15 years, including most recently, the award winning iXi bike. Their design-led range of alternative storage products for the home is sold under 'The Art of Storage' brand. From minimalist coat hooks to more complex shelving, racks, and stands, The Art of Storage line offers a practical range of everyday fittings that are interesting, stylish, and enjoyable to use. Innovative design and high grade materials combine to make the Art of Storage collection the ideal choice for bringing "art" to home storage solutions. Products are available at The Container Store, high-end specialty design stores in major US cities, and from http://www.theartofstorage.com.
# # #