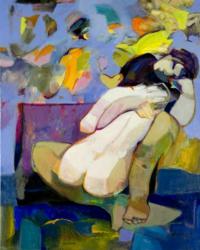 I didn't set out to use bright colors, they just came out.
San Francisco, CA (PRWEB) November 30, 2012
Art People Gallery, a premier San Francisco art gallery, presents internationally renowned Artist Hessam Abrishami in his show "Unique Impression."
Abrishami creates colorful layered canvases and sculptures. This new exhibition will feature a collection of paintings evoking music, love, and sensuality. The series is organized around a sequence of images deriving from the painting "Solo Rhythm." Canvases and sculptures are interlocked in a continuum, effectively creating a classical frieze commemorating the love and the freedom expressing Abrishami's inner feelings. Hessam Abrishami will show his works at Art People Gallery from December 11th-30th, 2012 with an opening reception scheduled for December 13th, from 4-7pm.
Abrishami employs a sophisticated technique that reflects his multiple subject references and includes materials such as acrylic, oil, ink and bronze. His apparently simple layering of elements and color palette bring together subjects and media to enhance his use of figurative images.
Abrishami's process is intuitive by nature. He approaches a canvas with no direct idea of the composition, palette or artistic fundamentals. He comes from a place in his heart, a place of emotion wherein a feeling is expressed. He starts with a single stroke of color applied to the canvas. He stays within the emotion he desires to share, holding that feeling in his heart. As he applies the colors that best express those feelings the form of the work begins to emerge. Figures come to life, places are created, and a painting is completed. While an image at first glance is of love or celebration, there is an underlying feeling present that the emotions expressed are keenly necessary.
Abrishami was born in Shiraz, Iran in 1951 and currently lives and works in California. His museum exhibitions include: Museum of Contemporary Arts, Tehran, Iran; San Bernardino Museum of Art; Museum of Arts and Science of Daytona Beach, Florida; Museum of Contemporary of Art in Hot Springs, Arkansas. Abrishami has also shown his work in Australia, Russia, Italy, Hong Kong, England, and Japan. His recent publications include: "Expressions of Love" and "In Absence of Color."
For more information about Hessam Abrishami's artwork, please visit Art People Gallery.
ABOUT ART PEOPLE GALLERY
Art People Gallery, a premier San Francisco art gallery, is located in the Crocker Galleria, 50 Post St., in the heart of the financial district, near Union Square's exclusive shopping area, close to the MOMA and the Jewish Museum. Art People is a full service gallery installation.
Art People Gallery is open Mondays through Fridays 10am-6pm, and on Saturdays from 11am-5pm. For more information, contact Ali Meamar at (415) 956-3650 or at info(at)artpeople(dot)net. You can also become a follower of Art People Gallery's Facebook page.