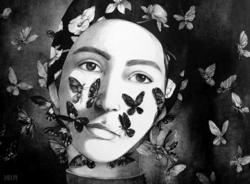 San Francisco, CA (PRWEB) July 30, 2012
Born in Tehran, Iran in 1983, Asal Fallah started painting at age 6 when her parents, both journalists, enrolled her in painting school in Tehran. Her father, a graphic artist and a member of the Society of Iranian Calligraphists, was a great influence on the young woman's artistic development. A few years later, Asal started drawing black and white sketches in her diary to describe her moods and illustrate her travels. Encouraged by one of her professors, she transitioned to large scale drawings, and her "My World" collection was born. In the United States, Asal Fallah's artwork can be seen at Art People Gallery in the Crocker Galleria, 50 Post St., Suite 41, San Francisco, CA 94104.
With the help of a simple black pen, Asal depicts her "mental ambiance, her needs, and daily experiences." All black and white drawings, the works in her "My World" collection alternate between a dark reality and a dream-like world viewed through the eyes of the central character, always a woman. They are characterized by a lack of boundaries, where past and present meet to depict the artist's vision of her world. The colorless contrasts, as well as the resulting shades of gray, free the viewer from the visual distractions provided by color. The softness of the features, the finesse of the details, and a dreamy ambiance all conflict with an overall impression of uneasiness born of the woman's sadness, and conveyed by the ever-present symbols of restraint that hold her physically or psychologically captive to a burdensome reality. Even when her face is surrounded by delicate butterflies, the prevailing sentiment is one of sadness and melancholy.
Many of the drawings in the collection feature the same woman, Asal herself, repeatedly surrounded by recurrent symbols of traditional Persian art: butterflies, crows, eggs, fish… Frequently portrayed in a wedding dress, she lives surrounded by everyday objects that restrain her movements or suggest imprisonment. The crows in particular represent a menacing presence, a constant reminder that she is being watched. Only in her dreams does she find some solace, and even then the threatening elements hover in the periphery of her consciousness… Time and place are irrelevant in Asal's work; the visions of the artist as a child and as a woman coalesce to produce drawings of great beauty and intensity.
Asal Fallah's "My World" collection will be in a solo exhibit at Art People Gallery from January 1st through January 15th, 2013. The opening reception is scheduled for Thursday, January 3rd, from 4-7pm.
ABOUT ART PEOPLE GALLERY
Art People Gallery, a premier San Francisco art gallery, is located in the Crocker Galleria, 50 Post St., in the heart of the financial district, near Union Square's exclusive shopping area, close to the MOMA and the Jewish Museum. Art People is a full service gallery installation.
Art People Gallery is open Mondays through Fridays 10am-6pm, and on Saturdays from 11am-5pm. For more information, contact Ali Meamar at (415) 956-3650 or at info(at)artpeople(dot)net. You can also become a follower of Art People Gallery's Facebook page.