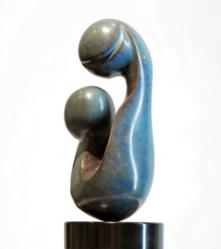 Sculpture is the Physical Representation of Spiritual Beauty
San Francisco, CA (PRWEB) November 27, 2011
Born to a French Jewish father and an Italian mother, Guy Clement Cohen spent the first few years of his life in Alexandria, Egypt. When the family moved to Paris, a five-year old Guy was exposed to the Parisian art scene, and developed a very strong interest in all forms of artistic expression. Years later, after a successful career in cutting-edge technology and product design, the engineer with the soul of an artist decided to dedicate himself to his lifetime passion and became a sculptor. Today, Cohen's sculptures can be seen at Art People Gallery where his work is on permanent exhibit.
Although he also works with bronze and steel, Cohen enjoys stone sculpture the most. An intuitive artist, he brings to his art a unique multicultural and multinational flair acquired throughout a lifetime of travels and encounters with myriad cultures. Cohen uses his past to create the future: Embarking on a path of exploration with each and every one of the stones he selects, he unveils the depth and wholeness of their relationship with tools chosen intuitively. In a very organic way, the sculptor and his creation develop a mutual attraction and a spiritual connection that bring out the best in each other. Like Pygmalion, Cohen's soul merges with the stone he is carving; every curve, every angle of the resulting masterpiece reflects the purity of that encounter.
Guy Clement Cohen, the engineer and the sculptor, is also a seeker. This student of Kabbala has followed his muse down the path of mystic tradition and created "Syncretism," a series of carved interpretations of such abstract concepts as The Truth, The Sacred, or Contraction (Tzimtzum). More recently, his quest has led Cohen to reveal himself through more intimate pieces, such as Together, Discovery, or You and I, all abstract representations of a mother embracing her child. In its deceptive simplicity, Djesenia, named after the artist's younger daughter, speaks louder than words of a father's love for his child.
Guy Clement Cohen's stone sculptures can be seen at Art People Gallery, located in the Crocker Galleria, 50 Post St., San Francisco, CA 94104.
To learn more about Guy Clement Cohen, go to http://www.artpeople.net/ or visit http://www.guyclementcohen.com/
ABOUT ART PEOPLE GALLERY
Art People Gallery is located in the Crocker Galleria, 50 Post St., in the heart of the financial district, near Union Square's exclusive shopping area, close to the MOMA and the Jewish Museum. Art People is a full service gallery that specializes in contemporary fine art painting and sculpture by Bay Area and international artists. Art People also offers residential and corporate placement services including art rental programs, consulting and installation.
Art People Gallery is open Mondays through Fridays 10am-6pm, and on Saturdays from 11am-5pm.
For more information, contact Ali Meamar at (415) 956-3650 or at info(at)artpeople(dot)net. You can also become a follower of Art People Gallery's Facebook page.
# # #