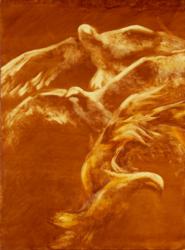 Nature's organic structures have inspired my work...
San Francisco, CA (PRWEB) May 30, 2012
Artist Karen Mason will be showing her "Dancing with Delight" collection at Art People Gallery, a premier San Francisco art gallery, from June 1st through June 30th, 2012. The opening reception is scheduled for Thursday, June 7th, from 4-7pm.
From an early age, Karen Mason has been on a journey of exploration and discovery, driven by a curiosity of nature in all of its forms –from flocks of birds in flight to delicate botanicals swaying in the wind. Having lived in the mid-west and on both coasts, Mason has long been intrigued by the saturated palette of coastal wetlands, lush landscapes and forested mountains: "Nature's organic structures have inspired my work, allowing me to take more of a child's perspective in addressing the enormity of 'looking up' with the freshness of 'looking at' a world full of surprises found in new beginnings." Mason achieves a similar effect in her work through her use of pure saturated oil colors and decorative patterns applied over thin layers of acrylic glaze or collage. Bold perspective and color balance each other out with a translucency that evokes tranquility and space.
Mason draws on her Italian heritage and the influence of Asian design to express a unique contemporary flair through the combination of vibrant texture and luminous atmosphere in her "Brilliant Birds and Botanicals" collection. The lure of the East comes through in a style that balances the beauty and splendor of nature against elements of imperfection and change. Her smaller paintings, made up of old collaged maps and decorative patterns capture the character of quizzical crows, light-hearted kingfishers, and comical parrots with her bold gestures and elegant lines. In Mason's larger multi-panel paintings, one glimpses red-crested cranes in a tango dating dance, or peacocks bathing in the radiant breeze. Her tropical botanical paintings capture the lush warmth of an early afternoon as the sun warms the ground and stirs the emotions of brilliant flowers in a bamboo-like forest.
A part of her "Birds in Flight" series, the "Dancing with Delight" collection uses a master's subtractive approach to oil on canvas, capturing the raw movement involved in flight. In it, singular entities capture warm long breezes high above those playfully navigating three dimensional mass of all so many others in flight. This is how Mason captures "Birds and Botanicals Dancing with Delight" at her upcoming Art People show.
Karen Mason's artwork is on permanent exhibit at Art People Gallery in the Crocker Galleria, 50 Post St., Suite 41, San Francisco, CA 94104.
ABOUT ART PEOPLE GALLERY
Art People Gallery, a premier San Francisco art gallery, is located in the Crocker Galleria, 50 Post St., in the heart of the financial district, near Union Square's exclusive shopping area, close to the MOMA and the Jewish Museum. Art People is a full service gallery that specializes in contemporary fine art painting and sculpture by Bay Area and international artists. Art People also offers residential and corporate placement services, including art rental programs, consulting and installation.
Art People Gallery is open Mondays through Fridays 10am-6pm, and on Saturdays from 11am-5pm. For more information, contact Ali Meamar at (415) 956-3650 or at info(at)artpeople(dot)net. You can also become a follower of Art People Gallery's Facebook page.