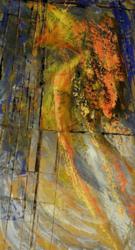 Art is to Life What Wind is to Nature. GCC
San Francisco, CA (PRWEB) June 29, 2012
Persian-American artist Meamar studied in Italy with some of the greatest artists of this century. As a result, his stylistic expertise ranges from classical to abstract. In the works of his "Original Collection," Meamar utilizes some of the concepts of his past creations as the background for his new work. He plays very skillfully with our recollection and experience of time to carry us in a world that is defined at the same time by the past, the present and the future. Meamar's creations can be seen at Art People Gallery, a premier San Francisco art gallery, where his work is on permanent exhibit.
Instead of working on a blank surface, Meamar prints the image of one of his older paintings onto a wood panel, turning it into a piece of his history as an artist. He then paints over it, creating a new history out of which emerge pieces of the past, in the form of a hand, a face, or an eye. In addition to the traditional five senses of sight, hearing, touch, smell and taste, Meamar depicts masterfully other senses of beauty, balance/harmony, motion and temperature as well as a sense of time.
Meamar's "Original Collection" can be seen at Art People Gallery, located 50 Post St., in the Crocker Galleria, in the heart of San Francisco's Financial District.
To learn more about Meamar's "Original Collection," visit Meamar.com.
ABOUT ART PEOPLE GALLERY
Art People Gallery, one of San Francisco's premier contemporary art galleries, is located in the Crocker Galleria, 50 Post St., in the heart of the financial district, near Union Square's exclusive shopping area, close to the MOMA and the Jewish Museum. Art People is a full service gallery that specializes in contemporary fine art painting and sculpture by Bay Area and international artists. Art People also offers residential and corporate placement services including art rental programs, consulting and installation.
Art People Gallery is open Mondays through Fridays 10am-6pm, and on Saturdays from 11am-5pm.
For more information, contact Ali Meamar at (415) 956-3650 or info(at)artpeople(dot)net. You can also become a follower of Art People Gallery's Facebook page.