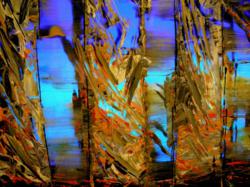 MEAMORPHISM: A new art form at the confluence of the physical world and virtual reality
San Francisco, CA (PRWEB) November 17, 2012
Today at 5pm PST, artist Ali Meamar unveils his groundbreaking exhibit "Meamorphism" at his San Francisco gallery, Art People, bringing to realization his vision of a creative universe where traditional art making and digital technology form a dialogue together in a singular art form.
"Meamorphism is a revolutionary new art form at the confluence of the physical world and virtual reality." - Ali Meamar
A New Media for 21st Century Painting
In addition to the traditionally recognized senses of sight, hearing, taste, smell and touch, and even intuition, recognized by many philosophers and scientists as the sixth sense, Meamorphism leads viewers to break paradigms and explore additional senses such as emotions, movement and balance. Through the play of what is and what can be, what moves and what is still, what is past and what is future, Meamorphism steers viewers into a new era by connecting with senses known and unknown.
Each Meamorphism piece has a unique "digital canvas" created and produced especially for each piece, composed of exclusive multimedia planes, either passive, such as collages and pigments, or active such as animated graphics and sounds. All those elements are ever changing to create a consolidated single piece of Meamorphism art.
"An artist's work is a combination of vision and material," said Meamar. "The Sony TVs, my digital canvases, provide a picture quality and true color reproduction that serves as the foundation on which the work builds."
With its digital canvas, each Meamorphism masterpiece allows collectors to have at their disposal infinite variations of the same artwork as the canvas and its media is always changing, providing the flexibility to fit in any kind of atmosphere, both in surrounding and in mood. Owners of Meamorphism pieces can interact with the work and become involved, along with Meamar, in the creation process, thereby owning for themselves a part of the success of the final masterpiece.
On Exhibit Globally
Meamorphism is on exhibit through December 8th, 2012 at Art People Gallery in San Francisco, followed by a planned world-wide tour starting in the United States and continuing on to both Asia and Europe.
For a preview or for an interview of the artist, please contact Meamar or Guy Clement Cohen at (415) 956-3650 or at info@artpeople.net.
For further details, please visit http://www.meamorphism.com.