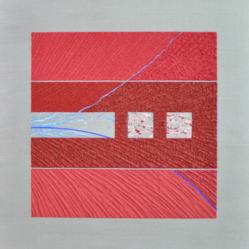 I call myself EpiCurious, and this is how I paint
San Francisco, CA (PRWEB) February 22, 2012
Born in 1971, Swiss-based artist Nicole Bron CHappuis (NBCH) started developing her taste for painting in high school with art teacher Pierre Keller, director of the University of Art and Design in Lausanne, Switzerland, from 1995 to 2011. Exploring the essence and the continuity of each experience and translating it into a firework of colors, geometry, curves and squirts, has been NBCH's greatest delight since then. What is important to the artist is to be able to live each instant as intensely as possible, and to be able to transmit these moments of intensity through her paintings. Using an abstract style, she represents the important events of her life through geometry, color and texture. Natural sand and acrylic squirts provide a balance to her work, along with constant research on graphics, shades and textures. Her intense monochromes, where sand is worked into the pieces with a spatula, create "windows" in which solid colors are expertly mastered and unite to produce so many vibrations. This balance, acquired through serenity and a touch of insanity, is what makes NBCH's work so captivating. In the United States, her paintings can be seen at Art People Gallery, a premier San Francisco art gallery, where her work is on permanent exhibit.
Wishing to continue uninfluenced, NBCH has remained self-educated. For more than 8 years, she has exhibited successfully in prestigious galleries throughout Switzerland. In 2007, she won the Spectator Award at the "En Beauregard Art Awards" and has been invited to present her work in various European countries as well as in San Francisco, USA (2011).
Over the next few months, NBCH's artwork will be showcased at the following international venues:

BeSt³ Educational Fair (8-11 March 2012) - Galerie M, Vienna, Austria
Liberated Dreams Exhibit (21-29 April 2012) - Trevisan International Art, Ferrara, Italy
Art Beijing (29 April-2 May 2012) - Beijing, China
An invitation has also been extended to NBCH to show her works at the following international venues:

Swiss Art Gate (23 Aug.–23 Sept. 2012) - Khalidiya Palace Rayhaan, Abu Dhabi, United Arab Emirates
Elextra, International Fair for Elegance & Extravagance (28–30 Sept. 2012) - Madinat Jumeirah, Dubai, United Arab Emirates
NBCH's return to Switzerland is planned for 30 April-27 May 2013 in La Grange at Jouxtens.
To learn more about NBCH, go to artpeople.net or NBCH.ch.
ABOUT ART PEOPLE GALLERY
Art People Gallery, a premier San Francisco art gallery, is located in the Crocker Galleria, 50 Post St., in the heart of the financial district, near Union Square's exclusive shopping area, close to the MOMA and the Jewish Museum. Art People is a full service gallery that specializes in contemporary fine art painting and sculpture by Bay Area and international artists. Art People also offers residential and corporate placement services including art rental programs, consulting and installation.
Art People Gallery is open Mondays through Fridays 10am-6pm, and on Saturdays from 11am-5pm. For more information, contact Ali Meamar at (415) 956-3650 or at info(at)artpeople(dot)net. You can also become a follower of Art People Gallery's Facebook page.
# # #