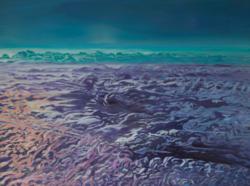 The essence of what I do is to look outside and then let the music lead me.
San Francisco, CA (PRWEB) October 10, 2012
"Air Play," Susan Z. Breyer's new series of oil paintings is a collection of large "skyscapes" on steel canvases. Viewers are encouraged to interact with the works, by moving smaller, "floating cloud" canvases over the larger foundation work, allowing for a fresh perspective and perhaps changing the overall tenor of a piece. "Air Play" reflects Breyer's desire to evoke the human experience we all share in taking in the fleeting beauty, power and majesty of the sky. She sees skies as our common canvases, reacquainting us with who we are and of what we dream. Susan Z. Breyer's new "Air Play" collection will be on show at Art People Gallery in the Crocker Galleria, 50 Post St., Suite 41, San Francisco, CA 94104, from October 1st-24th, 2012.
About her "Air Play" paintings, Breyer says: "Each of us has stepped outside, looked up and bestowed on the sky a wish for joy, a whoop of gratitude, a sigh of frustration, a cry of pain. It is our universal canvas, inspiring wonder and awe, worry and fear. The sky can elevate our mood or bring on the blues. Skies are at once constant and ephemeral, powerful and weightless, translucent and lush, brilliantly-hued and barely tinged with the softest of grey, imbued with our feelings and impossible to hold. We use the sky as a template for our dreams, letting the clouds carry us to a place of possibility. These "Air Play" paintings reflect my love of looking up, allowing for hope, and are for me a chance to capture the unobtainable, to shape the sky."
Susan Z. Breyer is a Woodside, California painter, known for her strong use of color and for her abstract depictions of the mystery, power and fragility of nature. Susan is a graduate of Stanford University and Harvard Business School. She subsequently studied painting with former San Francisco Academy of Arts instructor and master California painter Ning Hou, and she is proud to be, along with her mother, Sausalito impressionist painter, Carolyn Zaroff, a part of the Art People Gallery family of exhibiting artists.
Susan Z. Breyer will show her "Air Play" collection in a solo exhibit at Art People Gallery from October 1st through October 24th, 2012. The opening reception is scheduled for Saturday, October 13th, from 5-8pm.
For more information about Susan Z. Breyer's artwork, please visit Art People Gallery.
ABOUT ART PEOPLE GALLERY
Art People Gallery, a premier San Francisco art gallery, is located in the Crocker Galleria, 50 Post St., in the heart of the financial district, near Union Square's exclusive shopping area, close to the MOMA and the Jewish Museum. Art People is a full service gallery installation.
Art People Gallery is open Mondays through Fridays 10am-6pm, and on Saturdays from 11am-5pm. For more information, contact Ali Meamar at (415) 956-3650 or at info(at)artpeople(dot)net. You can also become a follower of Art People Gallery's Facebook page.