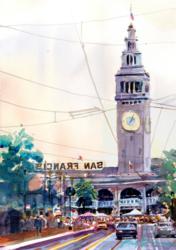 I want to bring more emotion into the painting than the visible surface of the subject or scene exposes – more than
the viewer expects.
San Francisco, CA (PRWEB) April 20, 2012
California native William Dunn graduated from San Jose State University with a degree in graphic design. While still in college, he was introduced to watercolor by N. Eric Oback, a nationally recognized watercolorist and instructor at the school, before further pursuing his interest for the medium under Ron Carraher. After graduation, William began his career as an assistant art director for an advertising company, eventually becoming a full art director. All along, the young artist continued to nurture his growing fondness for drawing and painting. Several years later, William joined the design faculty at the Academy of Art College in San Francisco. Painting more and more, with watercolor as his medium of choice, he gradually began to do less graphic design work to spend more time pursuing his passion for fine arts. Today, William Dunn's creations can be seen at Art People Gallery, a premier San Francisco art gallery, where his work is on permanent exhibit.
One of America's most accomplished watercolorists, William Dunn paints Bay Area landscapes, mainly of San Francisco. His brush captures color, movement, and composition in a few deceptively simple strokes: A street in Chinatown springs to life with a splash of colors, lanterns and hanging clothes swaying in the breeze; a tug boat gently rocks alongside a pier behind Fisherman's Wharf; on a stormy Sunday morning, a thundercloud breaks over a small California town: The downpour in the background, expertly sketched with a color palette ranging from lavender to deep purple, contrasts with the light spattering in the foreground. By introducing seemingly innocuous details against a broader backdrop, William Dunn manages to capture the inherent essence of things, the innate mood and character of people and objects. The connection he feels to his subject introduces a deeper layer of emotion into the painting, discernible beyond the visible surface to the perceptive viewer.
William Dunn is heavily influenced by many past and present artists, including Winslow Homer, Dong Kingman, John Singer Sargent, Francis Livingston, Dick Cole, Brook Temple, and many more. A member of both the American and National Watercolor Societies, his works are in corporate and private collections throughout California. He won First Place in the Watercolor Division of the University Art Open Artist's competition for two consecutive years (2008 - 2009). In addition, his work, "Wang Chung", was selected for inclusion in Best in America in Watermedia in 2010.
William Dunn's artwork can be seen at Art People Gallery in the Crocker Galleria, 50 Post St., Suite 41, San Francisco, CA 94104.
ABOUT ART PEOPLE GALLERY
Art People Gallery, a premier San Francisco art gallery, is located in the Crocker Galleria, 50 Post St., in the heart of the financial district, near Union Square's exclusive shopping area, close to the MOMA and the Jewish Museum. Art People is a full service gallery that specializes in contemporary fine art painting and sculpture by Bay Area and international artists. Art People also offers residential and corporate placement services, including art rental programs, consulting and installation.
Art People Gallery is open Mondays through Fridays 10am-6pm, and on Saturdays from 11am-5pm. For more information, contact Ali Meamar at (415) 956-3650 or at info(at)artpeople(dot)net. You can also become a follower of Art People Gallery's Facebook page.