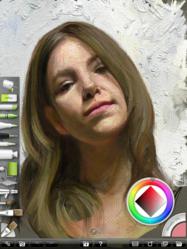 ArtRage for iPad was the best selling painting and drawing app for the iPad during Comic-Con San Diego.
(PRWEB) July 28, 2011
Today, Thurs, July 28, 2011 until midnight PST, will be the last day of the Ambient Design's Comic-Con Special Discount for ArtRage for iPad, priced at only 99 cents (normal pricing is $6.99), which was offered to inspire the artistic Comic-Con San Diego community to use ArtRage, the most realistic painting experience for the iPad. Available only during the week of Comic-Con, the world's largest convention for comics and popular art, ArtRage for iPad was the best selling painting and drawing app for the iPad during Comic-Con San Diego.
This video shows ArtRage for iPad used by digital artist Bo Paweena, David Newmann and Barbara Lietzow in conjunction with ArtRage Studio Pro 3.5 for Mac and Windows: http://youtu.be/8SKgUsfZ_Xg?hd=1
ArtRage for iPad lets you become a mobile digital artist on your iPad, providing the experience of actually "painting" digitally on an iPad canvas with oil paints that smear and blend, and watercolors that flow together to create soft, wet gradations, just as they would in a traditional art studio.
Artwork created with ArtRage for iPad can be further enhanced with ArtRage 3.5 Studio Pro on Mac & Windows. Free 30 day trial versions are available. For more information, see http://www.artrage.com.
To buy ArtRage for iPad at the special Comic-Con pricing see: Apple iTunes Store
About Ambient Design Ltd.
Ambient Design Ltd. is a New Zealand-based global software development and publishing firm,
specializing in creative applications and user interfaces for artists of all ages and all levels of competency, including professionals, hobbyists and students. The principals have over 40 years experience in combining complex image processing algorithms with an easily accessible user experience. Ambient Design Ltd. was founded in 2000 by Andy Bearsley and Matt Fox-Wilson, formerly of MetaCreations, the developer of Painter, Bryce and Kai's Power Tools. Ambient Design's products are available in 12 languages and have been downloaded over 10 million times.
###