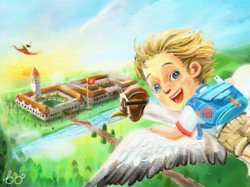 New features for ArtRage version 3.5 include recording and playback of paint strokes to share the creative process, multithreading support for huge speed improvements and new options for tools to provide a wider range of artistic effects.
San Francisco, CA (PRWEB) September 02, 2011
Starting Thurs., September 1 until Thurs., September 15, 2011, Ambient Design will be offering a Back to School Special Discount for ArtRage Studio and Studio Pro, priced at only 29.90 & 59.90 (normally priced at $40 & $80) to inspire students to paint with the new award-winning version 3.5 of ArtRage Studio and Studio Pro -- the most realistic painting experience for Mac and Windows.
ArtRage Studio & Studio Pro 3.5 provide an intuitive environment for digital creativity, including loads of tools and features, and custom content that lets you expand your artistic horizons and share your work with others. Studio Pro provides additional editing tools and deeper settings, along with Real Color Blending which lets you work in a real-world color space rather than standard digital RGB.
New Features in version 3.5:

Record & Playback: Record your paintings as you work then play them back stroke by stroke to show others how your art comes together.
Multithreading Support: Provides huge speed increases across the board for multicore or multiprocessor computers.
Package Files: Install custom content with a click, and share your content with others.
Artistic Enhancements: New options for tools to provide a wider range of artistic effects.
ArtRage 3.5 for Win/Mac is the perfect companion to ArtRage for iPad. Record your paintings on the iPad and play them back in ArtRage 3.5 for Win/Mac to recreate them at higher resolution, or import your paintings for finishing with the wider range of editing tools in the desktop versions. Watch a live painting event here: http://youtu.be/8SKgUsfZ_Xg?hd=1
ArtRage is available at the iTunes store for a limited time at $4.99 (regular price $6.99) at: http://itunes.apple.com/app/artrage/id391432693?mt=8.
To request a review copy of ArtRage, contact:
Karen Thomas/Eva Yutani, Thomas PR (631) 549-7575
# # #