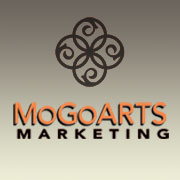 "The most critical channel for marketing messages is now online," says Tessitura Network President Jack Rubin.
Corte Madera, CA (PRWEB) March 12, 2012
MoGo Arts Marketing serves as Tessitura Network's preferred provider and technology partner for digital marketing, advertising and tracking solutions. MoGoARTS provides arts clients with the ability to seamlessly integrate their digital advertising campaigns with Tessitura's ticketing software, allowing organizations to track their campaigns' ROI (Return On Investment) with MoGo's interactive technology.
MoGoARTS' digital tracking interface with Tessitura's ticketing, CRM (Customer Relationship Management) and fundraising platform provides arts marketers the benefit of more accurately measuring campaign-driven transactions and their associated revenue.
"The most critical channel for marketing messages is now online," says Tessitura Network President Jack Rubin. "We have been impressed with MoGoARTS Marketing's ability to smartly and selectively reach new audiences, drive more revenue and improve marketing ROI via their digital marketing strategies. Tessitura Software includes tools for advanced list building and targeted messaging, so coupling that with the vast online advertising capabilities of MoGoARTS will greatly assist our member organizations in achieving their revenue goals."
About MoGoARTS Marketing:
MoGoARTS Marketing, a division of MoGo Marketing and Media, Inc., is an established San Francisco Bay Area marketing and advertising agency partnering currently with over sixty arts organizations throughout the U.S. and Canada to provide a strategic approach to digital marketing through integrated online advertising and search campaigns. MoGoARTS assists arts organizations in building a stronger market presence online, enabling them to grow audiences and revenues more effectively and measurably.
About Tessitura Software and Tessitura Network, Inc.
Tessitura Software is enterprise software that enables an integrated approach to "constituent management" for arts and cultural organizations. Using a single database the system empowers the user organization to record, track, and manage all contacts. Tessitura includes ticketing, fundraising, CRM, marketing, reporting and analysis, subscriptions, membership functionality and full no-fee Internet capability. Four hundred organizations use Tessitura in Australia, Canada, Ireland, New Zealand, United Kingdom and the United States. Tessitura Software is fully PCI (Payment Card Industry) PA-DSS (Payment Application Data Security Standard) Certified.
The Tessitura Network, Inc. is a nonprofit company established to further enhance Tessitura Software over time and to provide ongoing support, consulting and community services for Tessitura licensees.