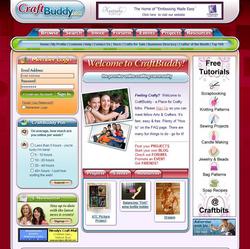 Your site looks great and I look forward to meeting a lot of friends on the site
Paso Robles, CA (PRWEB) October 16, 2007
CraftBuddy Inc. is pleased to announce the release of their new website for Arts and Crafters, CraftBuddy.com. CraftBuddy.com is beautifully designed and feature-rich website that offer many ways for crafters to meet and share tips.
"We designed this website with the needs of the crafter in mind, so we made it very appealing and functional. Crafters are a very social group of people who love to share tips and ideas, and they now have a place to go to meet others who have similar interests. Our goal is to be a welcome place for any crafter, whether it is a very popular and established craft, or a relatively new one. We now have 70 crafting categories to choose from, and are adding more all the time," said Fred Brutschy, owner.
Users can easily Browse for crafters with similar interest, view their profiles to learn more about them & see photos of their crafts, then add them as friends. Crafters are encouraged to upload their crafting work for all to see on the Projects page. They may also post Events on the website to advertise crafting shows they are attending or promoting, or post Crafts for Sale in the Classifieds section.
More features include a Forums area organized by crafting interests that allows even more communication among crafters to share tips and ideas. There is a wealth of information on our Resources page, which lists many websites that offer free information, as well as our Business Directory page which lists quality arts and crafts related businesses.
Fun things to do on the site include Blogging, Contests, and Chatting and these features all make the site a great place to return to on a regular place.
Having gone live in August of 2007, the site is already boasting impressive traffic and signups. Please visit this one-of-a-kind website and see for yourself what everyone is talking about:
"Well, this is my 2nd day here at CraftBuddy and I really am impressed with the site. This is one of those places where I don't see the 'new' wearing off. Thanks for creating a wonderful place where crafters can unite," said user Paper Trails.
"This is now my first stop after I check my mail! Oh, and also after I grab a cup of java. Thanks for making CraftBuddy a part of my day," said user Just Alter It.
"I think this site is going to be a wonderful way to meet new people and exchange ideas. Props to you Craft Buddy," said user Wind Dancer.
"Your site looks great and I look forward to meeting a lot of friends on the site," said Eva J.
CraftBuddy Inc. is the owner of Craftbuddy.com, the premier social networking website for Crafty People.
###