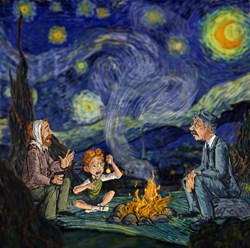 Sarasota, FL (PRWEB) August 12, 2013
1989 Ringling College of Art and Design graduate Aaron Blaise and long-time Disney collaborator and co-director with Blaise on 'Brother Bear' Chuck Williams have launched a $350,000 Kickstarter campaign to start production of their animated feature film 'Art Story.'
Aaron and Chuck are experienced Disney feature animation film veterans, having worked at Disney for 21 years each on many Disney classics, including Lion King, Beauty & the Beast, Aladdin and Pocahontas. They also produced and co-directed the Academy Award-nominated Brother Bear.
'Art Story' is an unconventional and creative animated family film about a boy and his grandfather who become trapped in the world of fine art. Their relationship develops as they become stuck within famous works of art and their characters are rendered in the style of the painting.
According to Blaise, "The emotional journey and story is about a boy and his grandfather who are complete opposites. They unite to journey from painting to painting in order to find a way out, and they come to understand and love each other by the end. What's funny is that I originally wanted to be a painter and fine artist and kind of fell into animation while at Ringling College. I was always a big fan of the old masters and when you combine that with this story, we get to open up a whole world of fine art to what we hope is a receptive audience."
"The notion of having the characters going into paintings and becoming rendered in each painting's style opens up a world of "what if they are then rendered in that style?" said Williams. "It's been a long time since somebody did a grandfather-grandchild story, and I remember a trip I took with my grandfather when I was young and though it was rocky at the beginning, by the end we had gotten to know each other a lot better and really bonded on the trip. It stuck with me and provided the genesis of the story."
"Smaller films have had a lot of success on Kickstarter and Chuck and I thought it would be an interesting opportunity to be the first to try to fund a full-length animated feature there," Blaise concluded. "We've got the background, experience and reputation and we believe we can capitalize on that to produce an animated feature with a compelling story that also leverages our love for fine art."
For more information please go to http://www.kickstarter.com/projects/291846368/art-story. You can also follow the 'Art Story' project on FaceBook and Twitter.