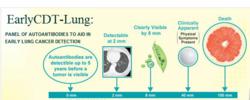 We believe that our partnership with ARUP can improve the well-being of many individuals who are at risk for developing lung cancer.
Salt Lake City, UT (PRWEB) January 09, 2013
ARUP Laboratories announced today that it is entering into an agreement with Kansas-based Oncimmune® USA LLC to offer EarlyCDT®-Lung, the blood test that aids in the risk assessment and the early detection of lung cancer, to its clients.
Lung cancer is the leading cause of cancer death among men and women in the United States. Each year more people die of lung cancer than colon, breast, and prostate cancers combined. Approximately 226,160 new cases of lung cancer were diagnosed in 2012, and 160,340 deaths occurred.
"Oncimmune is pleased to partner with ARUP in offering our EarlyCDT-Lung test," said Greg Stanley, chief commercial officer at Oncimmune USA. "We believe that our partnership with ARUP can improve the well-being of many individuals who are at risk for developing lung cancer."
Seventeen peer-reviewed publications support the performance and clinical utility of the EarlyCDT-Lung test. The test has a high specificity (93%), seven times fewer false positives and seven times better positive predictive value (PPV) than CT, and >91% accuracy, when considering a population with 2% prevalence of lung cancer (20 lung cancers per thousand).
Numerous leading academic institutions and more than 2,000 physicians are running the test. An audit of clinical data from the first 1,600 patients tested by EarlyCDT-Lung validates its utility to detect early-stage lung cancer and its overall performance. The Scottish government is conducting a 10,000-patient randomized clinical trial to validate the economic benefit of the test in screening high-risk patients.
Patient blood samples sent to ARUP will be analyzed at Oncimmune's CLIA-certified laboratory located in metropolitan Kansas City.
"We are delighted to make the EarlyCDT-Lung test available to our clients through this partnership with Oncimmune," said Dr. David Grenache, ARUP's medical director of special chemistry. "This test represents a novel blood-based approach to testing those individuals at high risk of developing lung cancer. We feel it is a welcome addition to our extensive oncology test menu and complements our existing lung cancer test offerings."
About ARUP
ARUP Laboratories is a national clinical and anatomic pathology reference laboratory and an enterprise of the University of Utah and its Department of Pathology. With more than 3,000 employees, ARUP offers in excess of 3,000 tests and test combinations, ranging from routine screening tests to highly esoteric molecular and genetic assays.
About Oncimmune
Oncimmune is a privately funded company located in Nottingham, UK with US headquarters and a CLIA laboratory in metropolitan Kansas City. The company launched a proprietary platform technology for early cancer detection, called EarlyCDT® with the first commercially available test, EarlyCDT®-Lung a blood test to aid in the early detection and risk assessment of lung cancer, released in 2009. The EarlyCDT® platform technology measures autoantibodies (immuno-biomarkers) in blood that form early in carcinogenesis. When the body recognizes something as "non-self," one of the ways it responds is for the immune system to produce large amounts of antibodies. The immune system does not normally produce antibodies against normal tissue antigens and therefore these immuno-biomarkers to cancer antigens provide high specificity for cancer.