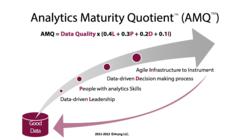 It is this [Analytics] maturity that powers the game changer- Zynga's product innovation.
Santa Clara, CA (PRWEB) June 29, 2012
Organizations gearing to leverage Big Data in a big way need a clear data-driven strategy. They need to understand the organizational readiness for change which data-driven decision making requires. In order to facilitate an organization's journey towards monetization of Big Data opportunities, Aryng has launched a global AMQ survey that would help organizations understand their current analytics maturity and identify gaps towards their Big Data strategy.
Aryng's President and CEO, Piyanka Jain blogs on Forbes about the AMQ framework, "Analytics Maturity, as measured by AMQ, has key dependencies on data quality, data-driven leadership, people with analytical skills, data-driven decision making process and agile infrastructure".
Jain writes, "It is this maturity that powers the game changer- Zynga's product innovation. Whereas, traditional product development would involve making product decision using business intuition and knowledge, Zynga turned decision making on its head by hypothesis driven product testing, quick analysis and agile roll out based on how customers behaved."
Jain cites another example, "It is also this same maturity that enabled DVD rental kiosk company, Redbox, to increase their prices last year from $1 to $1.20 in a soft economy, without impacting their share of wallet, and without incurring a consumer backlash, while its competitors struggled to maintain status quo."
Jain is calling on all global organizations looking to leverage data for making better decision to participate in this study by filling out the AMQ survey. The participants will receive a customized report of their own analytics maturity benchmarked against others in the industry.
About Aryng:
Located in Santa Clara, CA, Aryng (http://www.Aryng.com) is an analytics training and consulting company, empowering business professionals across all the business functions including product, sales, marketing, operations and IT, to leverage data for better decision making through their customized and easily approachable training courses. Aryng also offers strategic coaching and mentorship to CEOs, CMOs, CTOs and CIOs looking to compete on data with their Big Data strategy.