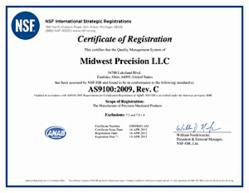 Achieving Rev C certification on our first audit is a testament to the commitment Midwest Precision has to excellence in the quality, customer service, and reliability that our customers' expect
Cleveland, Ohio (PRWEB) April 18, 2012
Midwest Precision announced today that the company earned AS9100 Revision C certification on its first audit. Developed specifically for the aircraft, space and defense industries, AS9100 ensures the safety and reliability of products used throughout these markets. It is mandatory to be Revision C certified by July 1st, 2012. The mandatory recertification to Rev C was prompted due to the aerospace industry having major issues with on-time delivery, poor quality and risk mitigation.
Revision C added several stringent requirements providing the auditors with tools to ensure a Rev C certified company has robust and sustainable processes to deliver quality products consistently on-time. Midwest Precision passed the certification audit on the first attempt.
As part of the AS9100 Revision C certification, the entire company has been recertified to the latest ISO9001:2008 standards. Midwest Precision is also listed in the OASIS (online aerospace supplier information system) database, managed by the International Aerospace Quality Group (IAQG). Sponsored by three governing bodies - the European Association of Aerospace Industries (AECMA), the SAE International and the Society of Japanese Aerospace Companies (SJAC) - the IAQG is a cooperative of worldwide prime aerospace industry companies that jointly develop standards for high quality products.
"The aerospace industry justifiably expects one of the most rigorous quality management systems," said Susan Cummings, Quality Manager at Midwest Precision. "This certification is recognition that Midwest Precision meets those standards. It takes a significant investment and commitment from all of our employees to attain this level of certification and we're grateful for everyone's efforts."
As part of the Revision C certification effort, an extensive Process Failure Mode Effects Analysis (PFMEA) was undertaken to assess risk in all areas of the company. This effort resulted in higher risk processes being identified, with mitigation actions being implemented to reduce them.
Wayne Foley, President of Midwest Precision, stated, "Achieving Rev C certification on our first audit is a testament to the commitment Midwest Precision has to excellence in the quality, customer service, and reliability that our customers' expect". "We know that even a small part can impact the timeline and safety of a large aerospace project. We invest in this effort because we know it makes us a better supplier to all of our customers."
About Midwest Precision
Established in 1953, Midwest Precision, formerly known as Midwest Screw Products, is an AS9100 / ISO 9001 certified manufacturer of precision machined components and assemblies for the Aerospace, Defense, Power Generation and Engineered Industrial markets. The company is well-known for its innovative manufacturing engineering, value-adding capabilities including program management and expertise in precision machining and assembly of close tolerance components made from Stainless Steel, Aluminum, Nickel Alloys, Titanium and other engineered materials.
Midwest Precision was formed by former executives of International Motion Control, a global leader in industrial and aerospace motion control components and systems. Midwest Precision applies operational expertise and investment discipline to successfully grow industrial manufacturing companies.