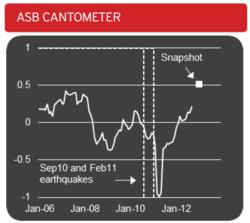 Construction activity continues to build, boosted by increase in non-residential consents.
Canterbury, New Zealand (PRWEB) January 24, 2013
The Cantometer snapshot has lifted strongly in the January edition of the Cantometer, increasing to 0.5 from 0.2. The snapshot now suggests activity is firmly above pre-quake levels. Much of the improvement over the past month stems from the consumer spending index, which has lifted to +0.3 from -0.8.
The Christchurch Retail Trade Indicator revealed further recovery in retail spending over Q3, with the quarterly pace of Christchurch retail spending growth outpacing that of the rest of the country. In addition, there was a sharp improvement in Canterbury consumer confidence over Q4, although this does follow an improvement on a nationwide basis.
The continued recovery in these areas suggests economic activity is starting to broaden beyond construction.
In addition to stronger consumer spending, we have also seen small improvements in other areas of the Canterbury economy.
A lift in permanent and long-term net migration (now positive) and pick-up in car registrations are also encouraging indications of increased activity.
The Construction index lifted even higher over the past month, boosted by further increase in non-residential consents.
Housing demand continues to recover, with a pick-up in house sales. However, low levels of new listings continue to hold back the Canterbury housing market recovery. The tight market continues to place upward pressure on Canterbury house prices.
The Cantometer is a simple summary of regional economic data and is published monthly.
OUTLOOK
We expect Canterbury reconstruction activity to underpin the nationwide lift in residential construction over the coming year. However, for the time being, Canterbury activity beyond the construction sector has remained subdued. In particular, the Q3 GDP figures suggest there is less momentum in support industries (such as professional services) than previously thought.
In light of indications of less momentum in the wider economy and subdued inflation pressures we now expect the RBNZ will leave the OCR unchanged until March 2014.
RECENT DEVELOPMENTS
To date, the EQC has settled $4.1 billion in claims, and estimates $12 billion in claims remain outstanding (as at January 14th). Of the 459,500 claims received, the EQC has closed 108,653.
EQC would like quake affected residents to complete contents claims by the end of February. 80% of contents claims have been closed.
Kaipoi residents are pleased by new green spaces as red-zone areas cleared.
For more information about ASB Bank and home loan services visit http://www.ASB.co.nz.