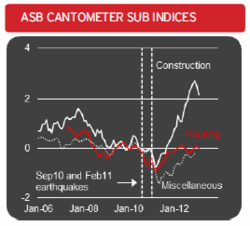 The lifts in consumer spending and other areas indicate a broadening in Canterbury economic activity.
(PRWEB) April 23, 2013
To view ASB's latest home lending rates visit ASB.co.nz
CONSUMER CONFIDENCE PICKS UP IN CANTERBURY
The Cantometer snapshot index improved over April, lifting to 0.6 from 0.5.
Driving much of the improvement was a lift in the consumer spending index, to 0.7 from 0.3. Over the past month, we have received fresh data for Q4 Canterbury retail spending and Q1 Canterbury consumer confidence. Both showed improvement on the previous quarter, underpinning an increase in the Cantometer index. The outlook remains encouraging; the lift in consumer confidence along with continued population growth should support retail spending growth going forward.
The miscellaneous index also improved over April, lifting to flat from -0.2. Driving this improvement was a strong lift in car registrations and PLT net migration. These indicate continued growth in population and activity in Canterbury, as the rebuild attracts resources from around the country and offshore.
The Cantometer is a simple summary of regional economic data and is published monthly. For more detail on the design of the Cantometer please refer to page 2.
OUTLOOK
The RBNZ will balance the Canterbury construction-led lift in activity and intensifying housing market pressures against the impact of the elevated NZD. We continue to expect the RBNZ will leave the OCR unchanged until March 2014.
RECENT DEVELOPMENTS
Canterbury construction costs lifted strongly over Q1 2013, rising 3.3% qoq and 12.2% yoy. This acceleration in construction cost inflation suggests capacity constraints are now starting to impact the rebuild.
There is speculation increased competitiveness in the reinsurance market may result in cheaper premiums. The Q1 CPI data indicate insurance premium growth is starting to slow.