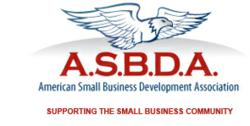 West Bloomfield, Michigan (PRWEB) January 17, 2013
The ASBDA - American Small Business Development Association announces the creation of a new "Gold" membership that not only gives members discount benefits to everyday shopping but also allows members to take advantage of group association plans offered by association partners for discount dental, vision, and roadside assistance. This is the first time ASBDA has allowed a "limited" membership to take advantage of any healthcare discount programs (and for a fraction of the membership dues: $45/year "Gold" vs $420/year "Platinum" membership). It is also their first nationwide membership ("Platinum" is Michigan only).
Included in the "Gold" membership, is the ASBDA's prescription discounts plus the SavingToday program that saves the average member $2500 per year nationwide for travel, dining, shopping, entertainment, recreation, automotive services, office supplies, etc. Also, "Gold" members and their family can be covered under ASBDA's vision eye care discount plan for an additional $2 per month. The dental discount plan can also be added for $8 monthly for individuals and $13 monthly for families. Plus, the roadside assistance plan can be added for $49.50-89.00 per year depending on the number of cars/drivers. Lastly, all members receive up to 35% off their report/administration for HRA 105 which saves business owners with 1-3 employees an average of $3,800 in taxes.
All members can speak to expert advisers who will consult on how to cut costs on taxes, insurance, and business expenses; however, the "Gold" membership is a limited membership, so "Gold" members cannot take advantage of the same benefits and group association plans as the "Platinum" members (such as medical reimbursements, gas card, retirement plans, 401K's, health insurance, life insurance, disability insurance, and critical illness insurance).
The discount vision plan includes over 12,000 participating eye care locations nationwide. Instead of insurance reimbursements, members save instantly off their bill and have no annual limits because it is a discount plan. Plans save 10% to 60% on eyeglasses, contacts (excluding disposables), eye exams, and surgical procedures. The provider network is the most comprehensive in the U.S. and includes ophthalmologists, optometrists, independent optical centers and national chain locations such as Pearle Vision, JC Penney Optical, Sears Optical, LensCrafters, and EyeMasters stores.
For the above mentioned dental rates, "Gold" members may choose from a variety of providers. The discount plans save 10% to 60% on most dental care procedures such as cleanings, braces, and more (most dentists in combined networks anywhere). Select plans offer discounts on vision, prescriptions and chiropractor services.
Bob Spencer, licensed insurance agent said, "I have friends and clients who are independent contractors and small business owners who took advantage of this new membership for discounted dental and vision. They love it!"
The Emergency Roadside Assistance Plan provides services 24 hours per day and anywhere in the United States and Canada. All plans include: Towing up to 75 miles, Lockout and Lost Key Service, Flat Tire Change, Battery Jumpstart Service, Out-of-Gas Fuel Delivery (up to 3 gallons), Trip and Routing Service, and the concierge/personal assistance service will help 24 hours a day with making travel arrangements or turn by turn directions.
ASBDA's SavingToday program saves members up to 50% on nationwide and local companies and brands. Shopping discounts include name brands, groceries, clothes, sporting goods, and office supplies. The travel discounts include cruises, airfares, car rentals, condo rentals, theme parks, and hotels. Entertainment discounts save members on movies, skiing and snowboarding lift tickets, golf, laser tag, and bowling. Members enjoy discounts for services like printing, shipping, automotive, cleaning, storage, lawn, oil changes, cellular, and internet.
SavingToday can be used at over 275,000 merchants like: Sears, Target, Enterprise, Hertz, Budget, DICK's, H&R Block, SeaWorld, Mrs. Field's, AMC Theatres, Office Depot, Firestone, Hilton Hotels, Holiday Inn, Famous Footwear, Blockbuster, Disneyland, Mammoth Ski Resort, Papa John's, ACE Hardware, Sally, BrookStone, Verizon, OfficeMax, Aeropostale, PepBoys, LeapFrog, Six Flags, etc.
As a guest user, non-members can search the SavingToday discounts to get an idea of the brands and companies at: http://asbda.org and for membership benefits here: http://asbda.org/joinnow.aspx
The ASBDA is a membership based non-profit organization for the small business community, individuals, and families. ASBDA has expert advisers dedicated to protecting and improving the business, health, and lifestyles of its members through providing group association plans, savings and advice on products and services used by the small business community. Since 2008, ASBDA has grown to thousands of members allowing individual members to take advantage of group association plans and discounts on local to international companies.