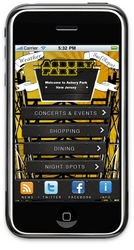 "Smartphones are now mainstream devices and consumers want access to information anywhere at anytime," said Mr. Ivey. "With the accomplished development team at Mobile Fringe, we were able to deliver this application quickly."
Washington, DC (PRWEB) June 22, 2010
Madison Marquette has launched an iPhone application for The Asbury Park Boardwalk, a high profile retail mixed-use destination along the New Jersey coast. The application allows users to stay up to date on events and news regarding the boardwalk.
"Mobile communications are becoming an increasingly important channel for keeping consumers connected with major retail destinations," said Kurt Ivey, Senior Vice President of Marketing and Corporate Communications of Madison Marquette. "We expect this new application to drive additional shopper visits through increased awareness of special events and promotions."
The application is available for download, here: http://phobos.apple.com/WebObjects/MZStore.woa/wa/viewSoftware?id=373462780
The application was built by Mobile Fringe, a mobile marketing and development company (http://www.mobilefringe.com). It is their first applications for a U.S. retail real estate owner. The application has several elements, including the following:

Concerts & Events – a frequently updated listing of upcoming music concerts and special events such as festivals, fireworks, bonfires, movies on the beach and sporting events.
Shopping – a comprehensive list of the shopping destinations at the Boardwalk, including several new retailers opening this summer. Content includes location, description and contact information for each.

Dining – a full directory of the many dining options at the Boardwalk – both seasonal and year-round destinations. Content includes hours, location, description and reservation information for each.
Night Spots – a description of the popular night-time gathering places along the Boardwalk, including descriptions, contacts, location information and hours.
News Announcements – information related to major news at the Boardwalk, such as new store openings, signature events and special promotions.
Social Media Connection – links to the Twitter and Facebook profiles of the Boardwalk.
"Smartphones are now mainstream devices and consumers want access to information anywhere at anytime," said Mr. Ivey. "With the accomplished development team at Mobile Fringe, we were able to deliver this application quickly."
Madison Marquette is planning to develop applications for other properties in its national portfolio of high quality retail and retail mixed-use destinations.
ABOUT MADISON MARQUETTE
Madison Marquette is a Washington, D.C.-based investor, developer and operator of retail and retail mixed-use real estate throughout the United States. The company specializes in creating unique retail destinations that respond best to consumer preferences. With regional offices in Fort Lauderdale, Philadelphia, New York, Charlotte, San Francisco, Los Angeles, Seattle and San Diego, Madison Marquette seeks investment opportunities in growing markets. The company maintains a sophisticated in-house operating capability and oversees 18 million square feet of retail real estate. This diverse national portfolio includes many properties that Madison Marquette manages and leases on behalf of third-party owners. For more information about the company, please visit http://www.madisonmarquette.com.
ABOUT MOBILE FRINGE
Mobile Fringe is a mobile marketing and development company specializing in iPhone, Blackberry and Android. We will turn your visions into mobile realities and will not only design and develop a state of the art mobile app but will go to great lengths to make our clients ride this incredible mobile wave. Mobile Fringe's proprietary mobile marketing platforms allow its clients a fast time to market, mobile content management and incredible value.
###