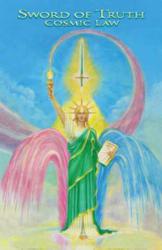 GOD INDIVIDUALIZED
ONE GOD – ONE PRESENCE
Many Sons – Many Daughters
Tucson AZ (PRWEB) April 02, 2012
From April 4 through 8 gather with other Ascended Master students in Tucson, Arizona to participate in planetary releases of spiritual Light and to receive direct instruction from the Ascended Masters. Experiencing this Light and spiritual enlightenment in person at this 5-day Conference, entitled "Sword of Truth — Cosmic Law" offers an unprecedented opportunity to understand the Laws of God that govern the Cosmos and wield the Power of your Divine Individuality to produce positive change on the world scene. Live audio broadcasts of all Conference events are available free of charge through The Temple of The Presence website. A live, streaming video broadcast program is also available through The Temple's e-commerce site. Seeing and hearing the live broadcasts is like sitting just feet away from the Ascended Masters as they deliver their message of personal and planetary freedom.
The Ascended Master School of Ancient Wisdom, Acropolis Sophia, follows the Easter Conclave from April 9 through 15. This Ascended Master retreat offers students spiritual teachings and training on the Path of self-mastery and the realization of the God Self, the Mighty I AM Presence. During this 7-day session, receive live Dictations and Discourses from the Ascended Masters and engage in in-depth group discussions on the principles of Cosmic Law. This spring Acropolis Sophia session, entitled "Let Krishna be Your Charioteer, Resurrecting the Panoply of the Christos" will teach you the practical application needed to become one with the Consciousness of your Christ Presence.
The Temple of The Presence makes the Teachings of the Ascended Masters available to all who desire to gain their eternal Freedom and serve God in Life. Learn who you really are, why you are here on this planet, and where you are destined to go. Find out how to use the Violet Flame, a gift to humanity from Saint Germain. Participate in live, scheduled broadcasts and view streaming video of Ascended Master Instruction on the great mysteries of life anytime through The Temple's Helicon Broadcasting®.
The Temple of the Presence is in the direct lineage of the ancient mystery schools that the great Ascended Masters of East and West have brought forth to the Western world over the past 150 years. These activities are organized by those initiates on the Path for the great awakening of humanity. Please visit The Temple of the Presence to learn more, to participate in scheduled live broadcasts, and to view top-quality streaming video of Ascended Master Instruction and spiritual awareness.
GOD INDIVIDUALIZED
ONE GOD – ONE PRESENCE
Many Sons – Many Daughters