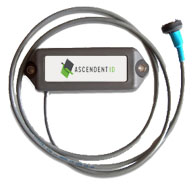 Our new sensor options are applicable for a variety of verticals including cold chain, pharmaceutical, shipping container security, and aerospace
Tacoma, Washington (PRWEB) May 24, 2011
Ascendent ID, the leader in expanded functionality long range RFID unveils new tag sensor options. The newly released SensorTags are built on Ascendent ID's RFID tag platform to wirelessly identify each asset and capture the integrated sensor data from an assortment of sensors for both real-time and logged history tracking.
"Our new sensor options are applicable for a variety of verticals including cold chain, pharmaceutical, shipping container security, and aerospace, " says company President, Doug Crane. "The tags can sample at customer-defined intervals for a documented history of compliance and exceptions."
For log tracking applications, the RFID sensor tags are initialized at the load origin and sampled at specified intervals throughout the journey. Once the shipment reaches its destination, the stored data is automatically transmitted to an RFID reader. The tag's memory is cleared upon confirmation that the complete history has been downloaded and the tag is ready to collect a new set of samples. For real-time sensor data, the sensor can be queried on-demand when the tag is within range of the reader.
A wide variety of sensor types are available including temperature, humidity, capacitance, flex (resistance), light, contact (open/closed), and specific vapor. Ascendent ID's RFID-based system replaces the manual processes associated with compliance tracking with an electronic and automated means of capturing load data for the ultimate in consistency and accuracy.
Ascendent ID's SensorTags enable customers to identify the point in the chain of custody at which an exception occurs, and in some instances, the duration for which it occurs in order to assess the impact on the products being transported. For example, in some instances a small temperature increase for 2 minutes might not affect the condition of product being shipped, but two days at 10 degrees over the specified temperature would. This type of visibility enables customers to make informed decisions about the transportation of valuable goods.
The SensorTag family of products is compatible with all of Ascendent ID's readers, with diverse options available to address varying operating conditions and product lifetime.
About Ascendent ID:
Ascendent ID is the premier manufacturer of long range RFID used for process automation, yard management, and Automatic Vehicle Identification (AVI) for parking, security, and tolling applications. Its portfolio of versatile products includes multi-zone RFID readers, long-range RFID tags with rewritable tag ID and memory, and integration software for targeted markets. Ascendent ID's products are available through installation and integration partners worldwide. For more information about Ascendent ID, please visit http://www.ascendentid.com
###