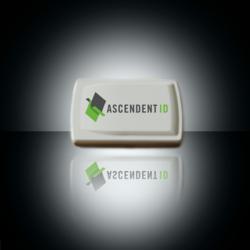 Our newest CompacTag has an expected life of over 6 years, which will translate into an even lower cost of ownership over the useful life of the AVI system
Tacoma, Washington (PRWEB) December 31, 2011
Ascendent ID, the leader in expanded functionality long range RFID for Automatic Vehicle Identification (AVI) introduces its longest-life CompacTag for vehicle access control at parking facilities, college campuses, and gated communities.
Utilizing the same small footprint of two inches long by just over an inch wide, Ascendent ID's newest CompacTag raises the bar for value and performance in a small package with a 6 year expected tag life.
"Our customers have emphasized the need for longer-life tags in a small footprint and we have listened and delivered. Our newest CompacTag has an expected life of over 6 years, which will translate into an even lower cost of ownership over the useful life of the AVI system," says company President, Doug Crane. "We were able to significantly increase tag life without increasing our trademark small footprint."
The new CompacTag is compatible with all of Ascendent ID's readers; which have an adjustable read-range to enable the CompacTag to be read from just a few feet up to 30. As with all of Ascendent ID's tags, customers can specify the facility code and tag identification numbers at the time of order to simplify tag management.
Ascendent ID's tags for Automatic Vehicle Identification are mounted on the inside of the windshield using double-sided tape or hook-and-loop fasteners for applications which require a transferrable or removable mount.
Ascendent ID's long-range AVI systems are compatible with virtually every manufacturer of vehicle access control systems and can be used as a long-range drop-in upgrade for proximity readers and tags. Every Ascendent ID reader ships with both RS232 and Wiegand interfaces standard.
All readers and tags support Ascendent ID's advanced reader-to-tag protocol for precise control of gate triggering, elimination of false reads, and support of systems incorporating anti-passback. Tags with the optional security feature prevent unauthorized use in the event that the tag is stolen from the vehicle's windshield.
Ascendent ID's products provide a hands-free solution for Automatic Vehicle Identification. Drivers focus on driving the vehicle, not holding a card out the window or pressing a keypad. As a result of the small size and the reader's variable read range, Ascendent ID's CompacTags are suitable for a variety of applications including weigh scale automation, high security applications requiring reader-to-tag AES encryption, and unattended load tracking. Our battery assisted tags have many of the same benefits of fully active RFID tags, but offer significant advantages in cost, longevity, and more precise control of read distance and direction. Ascendent ID's readers provide control of multiple lanes or gates, with each lane having its own discrete output to interface to the access control system. For standalone operation, Ascendent ID's readers can be configured to store a list of authorized tags and provide a gate trigger when a tag in the list is read.
About Ascendent ID:
Ascendent ID is the premier manufacturer of long range RFID used for process automation, yard management, and Automatic Vehicle Identification (AVI) for parking, security, and tolling applications. Its portfolio of versatile products includes multi-zone RFID readers, long-range RFID tags with rewritable tag ID and memory, and integration software for targeted markets. Ascendent ID's products are available through installation and integration partners worldwide. For more information about Ascendent ID, please visit http://www.ascendentid.com
###