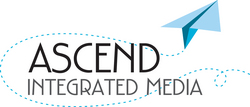 "We are always excited when a prestigious organization recognizes our efforts in expanding the role of custom content and media into the digital and interactive space." - Kate Crockett, marketing and social media director Ascend Integrated Media
Leawood, KS (PRWEB) November 2, 2010
Ascend Integrated Media has been awarded three 2010 MarCom Awards. They were recognized for their work with the American Academy of Pediatrics. The landing page http://www.aapconvergence.com won a Gold Award. They also received two Platinum MarCom Awards for their work both with Healthcare Convention and Exhibitors Association and for a collaborative multi-media CD-ROM developed for the 2009 American Heart Association Scientific Sessions.
The event mobile app that Ascend developed for HCEA was awarded a Platinum MarCom Award in the Electronic/Interactive Media category. This is not the first award for this event mobile app, it was also awarded a Digital Nichee Award earlier this year.
Ascend also received recognition for their innovative Heartsounds CD-Rom which was developed as an educational exhibitor tool to increase booth traffic. This CD-Rom was developed as a collaborative educational piece for Merck/Schering Plough, Thinklabs and The American Heart Association.
The MarCom Awards are an international competition for marketing and communication professionals involved in the concept, writing and design of marketing and communication programs in print, visual and audio materials. Entries come from corporate marketing and communication departments, advertising agencies, PR firms, design shops and freelancers. With nearly 5,000 entries yearly it has grown to perhaps the largest of its kind in the world.
Kate Crockett, marketing and social media director for Ascend Integrated Media expressed the company's excitement over the news of their awards "we are always excited when a prestigious organization recognizes our efforts in expanding the role of custom content and media into the digital and interactive space. We are very proud of our exceptionally talented team of designers, writers and digital developers who are constantly creating innovative ways to help our clients reach their audience with quality content. Hats off to our internal team, our clients who recognize the value of innovation, and a very big thank you to the MarCom Awards for this huge honor."
The list of winners can be found here.
About Ascend Integrated Media- Ascend Integrated Media is a custom media company, established in 1982 in Overland Park, Kansas. Ascend Integrated Media is uniquely positioned to work with companies to develop and produce brand-enhancing communications products. The company engages on behalf of the client to create and manage print and digital content associated with marketing, branding and social media initiatives. Ascend's suite of fully integrated products and services includes print and digital magazines, newspapers, newsletters, membership directories, product buyers' guides, exhibit guides and maps, hotel door drop services, healthcare study guides, patient care information, event-related websites, smartphone and client-specific hand-held device application development, as well as social media account management and targeted text and text couponing services.
# # #