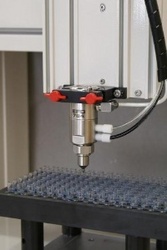 long disposable dispensing tip with a small (0.013
EAST PROVIDENCE, R.I. (PRWEB) June 2, 2008
According to a recent report, the medical coatings market is expected to exceed $5 billion by 2010, making controlled, efficient application of these materials more important than ever.
The new 784S-SS valve is precision machined from 316L stainless steel for excellent compatibility with a wide range of low- to medium-viscosity fluids. In addition, it features a unique aseptic design with a fluid flow path that is free of any entrapment areas—a critical consideration in sterile and aseptic fluid applications.
The 784S-SS valve incorporates EFD's proven Low Volume Low Pressure (LVLP) precision spray technology, which reduces production costs through fast, controlled fluid application without waste or overspray. Instead of a standard spray nozzle, fluid is routed through a ¼" long disposable dispensing tip with a small (0.013" – 0.004") internal diameter.
Depending on tip diameter, fluid viscosity and distance between the substrate and tip, the valve is capable of producing accurate, consistent spray patterns between 0.2 and 1.6 inches wide. Benefits in precision coating processes include greater process control, faster throughput, fewer rejects and lower production costs.
EFD dispensing systems are available through their worldwide network operating in over 30 countries. For more information, contact EFD at 800-556-3484, +1-401-434-1680 or info@efd-inc.com
Nordson Corporation is one of the world's leading producers of precision dispensing equipment that applies adhesives, sealants and coatings to a broad range of consumer and industrial products during manufacturing operations. The company also manufactures equipment used in the testing and inspection of electronic components as well as technology-based systems for curing and surface treatment processes. Headquartered in Westlake, Ohio, Nordson has more than 4,100 employees worldwide, and direct operations and sales support offices in 30 countries.
MULTIMEDIA GALLERY http://www.businesswire.com/cgi-bin/mmg.cgi?eid=5698202