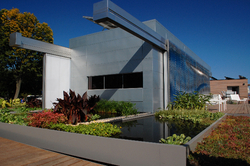 ...today's solar technology offers something for everyone, be it tax credits, cash rebates, lower energy bills, jobs for local installers, improved property values, cleaner air or more sustainable communities.
Boulder, CO (Vocus) October 1, 2010
For the first time, all 50 American states have aligned to participate in the American Solar Energy Society's National Solar Tour, the world's largest grassroots solar event.
On October 2, students, home owners, businesses and public agencies can fuel the momentum of this historic event – and get charged up about how they, too, can realize the benefits of today's clean, renewable solar energy solutions – by identifying and visiting their choice among a mind-boggling 695 tours showcasing thousands of innovative, solar-powered homes and businesses open for tours across the U.S. That's nearly triple the number of tours conducted in 2009. Last year's tour attracted 150,000 people across 49 states and Puerto Rico.
"From Dillingham, Alaska to Ft. Lauderdale, Florida, there is one thing on which Americans can agree: today's solar technology offers something for everyone, be it tax credits, cash rebates, lower energy bills, jobs for local installers, improved property values, cleaner air or more sustainable communities," said American Solar Energy Society National Solar Tour Manager Richard Burns.
Presented by the non-profit American Solar Energy Society (ASES) with support from Sun Crystals and the solar experts at Conergy, Sanyo and Trina Solar, the National Solar Tour features open house tours to introduce the solar technologies citizens are using to 1) slash monthly energy bills, 2) reduce harmful carbon emissions, 3) assert their energy independence and 4) enjoy rich tax credits and cash incentives as they improve their property values.
Burns says this is the first time in the 15 year history of the tour that solar-inspired individuals from every state have organized tours.
"For years, Americans at the federal, state and grassroots levels have watched the rest of the world embrace, refine and benefit from a technology Americans invented over half a century ago," said Burns.
"With all 50 states galvanized to evangelize the superior aspects of solar over polluting fossil fuels – which often leave Americans with hefty future tax liabilities in the way of increased health care costs and environmental clean-up – Americans are poised to start benefiting from the many rewards solar presents. It's time for us to have our place in the sun – and to see our families, workforce, businesses and neighborhoods prosper from its many properties. There's plenty for everyone!"
Word of the tour's inherent value in educating the public on energy issues has transcended international borders. This year, Mexico and the U.S. Virgin Islands are hosting their first solar tours and Puerto Rico is back for its fourth island-wide tour.
Today's solar technologies are mesmerizing in their diversity and ingenuity and helping property owners cut energy costs across the board. As the American Solar Energy Society makes history with its first ever 50-state solar tour, Solar Decathlon Europe winner Virginia Tech has offered to provide National Solar Tour participants with a look at what the future holds by introducing its smart grid-ready home of the future, the lumenHAUS, into the 2010 solar tour line-up.
The lumenHAUS manifests a concept known as responsive architecture, which employs state-of-the-art technology to automatically drive the home's response to internal and external factors like sun, weather, temperature – and, of course, its inhabitants. Its two-fold objectives are to optimize energy efficiency and user comfort while affording the individual as much control over the quality of his living environment as he desires. It automatically responds to its environment using a weather station, which constantly monitors climatic conditions and adjusts walls, shades, window tints, lighting and solar panel orientation to optimize energy use and keep the home efficient throughout the day.
LumenHAUS gets 100% of its electricity from National Solar Tour sponsor Sanyo's HIT® Power solar modules, known for their high energy conversion efficiency ratings and superior performance under cloudy conditions and extreme heat. Sanyo's HIT Double® glass-on-glass modules generate up to 30% more energy because their opaque qualities allow them to collect light from both panel sides.
Burns says as technologies have evolved, so have the diversity and sophistication of tour solutions. But it is the practical, grassroots approach of the people behind the tours that have made this event such a hit across America. The self-guided and bus-hosted tours are organized by grassroots organizations and solar installers throughout the country. Many tours are free; some tour hosts are non-profits and may request a donation.
The line-up of solar solutions joining lumenHAUS in this year's National Solar Tour is impressive – and with 695 tours scheduled across 50 states, too numerous to list.
Highlights include the grid and off-grid systems of Alaskans going solar rogue, Coloradans introducing the tour's first community solar garden, Californians who are using solar PV to fuel EV (electric vehicles), getting PHAT in image-conscious Los Angeles, solar facelifts in Atlanta, Georgia, Mississippians whose solar solutions feed energy-hungry poultry farms, and the winners of the Hunt-Winston solar race car challenge. In Boston, find a couple who's beat Wall Street with their green home investments. Representing the Show Me state, Missouri, is a 2-tour Iraqi war veteran now fighting in the renewable revolution. Further east is a tour organizer who's keeping the spirit of solar alive and well with creative, cost-cutting solar solutions at his funeral home in Verona, New Jersey.
Tour organizers are quick to emphasize that energy efficiency is an integral part of most tours. "Studies show that for every $1 property owners invest in energy efficiency, they save $3 to $5 on the final cost of a solar energy solution," observed the Texas Solar Energy Society's Lucy Stolzenburg. "We have a common-sense saying here in Texas that energy you don't use is energy you don't have to pay for."
Four-year National Solar Tour sponsor Jyl Safier, Marketing Director for the global solar energy experts at Conergy, finds distributors and customers are putting an increased emphasis on the economics of solar: "With enticing federal tax credits, billions of dollars in grants and loans, state-funded cash rebates and a groundswell of consumer support for sustainable solutions that promote energy independence, the economics of solar are compelling," she said. "And solar provides a great hedge against rising energy costs."
"I've said this before," Safier continued, "solar energy today is not just good for the environment, it's a job-creating, business-building, revenue-generating revolution whose time has come."
Become a part of solar history. Find the logistics associated with a tour near you at http://www.nationalsolartour.org.
ABOUT THE AMERICAN SOLAR ENERGY SOCIETY: Established in 1954, the nonprofit American Solar Energy Society (ASES) is the nation's first association of solar professionals and grassroots advocates. Supported by more than 12,000 members, ASES advances research, education, and policy. ASES publishes the award-winning SOLAR TODAY magazine, presents the National Solar Conference, rallies citizens to build a Solar Nation, and leads the National Solar Tour – the world's largest grassroots solar event. http://www.ases.org.
Contact:
Terri Steele for
The American Solar Energy Society (ASES) National Solar Tour
SolarSavvy(at)cox(dot)net, (858) 220-3317
# # #