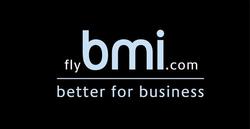 (PRWeb UK) April 24, 2010
bmi, British Midland International, is launching a special fare offer to mark it being the first British airline to restore flight operations to 100 per cent following the disruption caused by volcanic ash.
Flybmi fares on all UK and Ireland flights, in and out of London Heathrow, have been reduced, with fares now starting from as low as £18.50 one way including tax. Destinations include Flights to Belfast, Aberdeen, Dublin, Edinburgh, Glasgow, Manchester and London.
bmi, the second largest carrier at London Heathrow, operated its full flight schedule yesterday (Thursday 22 April), helping UK and Irish customers get back to business as usual, and bringing a substantial number of customers home.
The airline will continue to operate a normal schedule over the weekend.
note to editors
the booking period for the special fare offer is Saturday 24 – Monday 26 April inclusive with travel between 15 May 2010 – 28 February 2011
bmi is the second largest airline at London Heathrow, one of the world's leading international hub airports. Across its mainline route network bmi operates to Aberdeen; Addis Ababa; Almaty; Amman; Baku; Beirut; Belfast City; Berlin; Bishkek; Cairo; Damascus; Dammam; Dublin; Edinburgh; Freetown; Glasgow; Hanover; Jeddah; Khartoum; London Heathrow; Manchester; Moscow Domodedovo; Riyadh; Tbilisi; Tehran; Vienna; Yerevan.
bmi Regional operates to Aberdeen; Birmingham; Brussels; Copenhagen; East Midlands; Edinburgh; Esbjerg; Glasgow; Groningen; Leeds Bradford; Lyon; Manchester; Norwich; Zurich.
bmi is a member of Star Alliance, established in 1997 as the first truly global airline alliance to offer worldwide reach, recognition and seamless service to the international traveller. Its acceptance by the market has been recognised by numerous awards, including the Air Transport World Market Leadership Award, Best Airline Alliance by both Business Traveller Magazine and Skytrax. The member airlines are: Adria Airways, Air Canada, Air China, Air New Zealand, ANA, Asiana Airlines, Austrian, Blue1, bmi, Brussels Airlines, Continental Airlines, Croatia Airlines, EGYPTAIR, LOT Polish Airlines, Lufthansa, Scandinavian Airlines, Shanghai Airlines, Singapore Airlines, South African Airways, Spanair, SWISS, TAP Portugal, Turkish Airlines, THAI, United and US Airways. Aegean Airlines, Air India, and TAM have been announced as future members. Overall, the Star Alliance network offers 19,700 daily flights to 1,077 airports in 175 countries.
for further information contact bmi communications on +44 (0)1332 854687 or email corporate(dot)communications(at)flybmi(dot)com
###