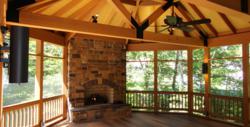 (PRWEB) March 15, 2012
Virginians love the outdoors but not the annoying bugs, scorching sun, and unexpected rain showers that can spoil a beautiful spring or summer day. That's why screen porches are regaining popularity in both new and existing homes.
In 1992, the U.S. Census noted that 42 percent of new homes had one or more porches. By 2008, that statistic had risen to 60 percent. In fact, deck replacement, the addition of a new screened porch, and front porches are three top remodeling trends on the rise.
"Last year was our biggest year for screened porches," says Greg Deans, operation manager of Decks with Style, which specializes in unique deck, patio, and porch designs. "People want to enjoy the outdoors, but without putting on a SPF 50 sunscreen, sweating, and swatting profusely."
Screen porches have been around for years but have changed from Grandma's porch with open rafters and a ceiling fan centered over a patio table. What was formerly a practical venue for family dinners and gatherings have become a luxurious amenity for homeowners. Screened porches can offer solitude, calm and quiet or the rooms can be used as playrooms, shelter for pets, or entertainment rooms.
"Porches have definitely become more stylish," Greg notes. "Last year we built a jaw-dropping screened porch with western red cedar and a 30 foot chimney."
The following are some porch upgrades homeowners may want to consider:

The new generation of screened porches have vaulted or cathedral ceilings that are insulated for both sound and heat protection. Remote controlled ceiling fans with recessed lights add functional ambiance.
Many porches showcase floors of Trex decking, stained floors, or stamped concrete.
Proper lighting can extend outdoor living well into evening hours and make the room ideal for reading, board games, and entertaining.
Flat screen TVs and surround sound may be installed to watch movies or listen to music.
An outdoor kitchen or a fireplace can be added with proper venting.
With so many recent advancements in new products and installation practices, Decks with Style believes it's become more important than ever to educate their clients as to the many options available and involve homeowners in the building process. Their experienced team of designers can skillfully add screened porches, decks, gazebos, and patios to an existing home seamlessly as if the improvement had been there all along. "We enjoy hearing our customers tell us that it looks and feels as if our work was part of the original architecture," Greg says.
To learn more about this business with an A+ rating from the Better Business Bureau, please visit their website, http://www.deckswithstyle.com.
About Decks with Style
Decks with Style is a design/build company dedicated to helping their clients enjoy outdoor living by providing unique decks, screened porches, gazebos, and patios to homeowners in Northern Virginia. From adding a fireplace or ceiling fan to helping clients choose finishes that will provide a luxurious look and feel, Decks with Style can help make a homeowner's vision a reality. They proudly serve Ashburn, Chantilly, Leesburg, Sterling, Fairfax, Reston, Vienna, Aldie, Oakton, Gainesville, McLean, Haymarket, and Great Falls.