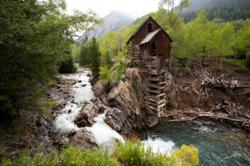 "Printing on wood adds a completely new element to so many of my fine art images!" Dave Ashby
Bloomsburg, PA (PRWEB) January 04, 2013
We're all used to seeing pieces of art just about everywhere we go, in homes, restaurants, various businesses, but recently fine art photography showed up back stage at the American Country Awards. While the format was a photograph, it was anything but a normal print! Printed on wood and adding the texture and grain of the medium itself added to the power of the image.
Dave Ashby, an artist in Pennsylvania, was the recent recipient of the honor to have an image back stage at the American Country Awards.
"I've spent most of my life as a professional photographer working on fine art and portrait photography. I am always looking for new materials to work with to set myself apart. Printing on wood works perfectly with many of my landscape and fine art images. The process is amazing and all thanks to Mike Lastrina at Woodsnap. They specialize on printing on white birch veneer," said Dave Ashby.
Dave's image, "Lost Horse Mill" was one of several pieces used to decorate at the American Country Awards.
"We were very excited to have the opportunity to feature one of Dave's images and blow it up to 24 x 30 and then print it on our product. It was the perfect way to bring fine art into the awards program," commented Mike Lastrina of Woodsnap.
You'll find more of Dave Ashby's stunning work at http://www.ashbyphoto.com and information about Woodsnap and their process is also just a click away at http://www.woodsnap.com.
For information on how you can add Dave Ashby's work to your own collection of art in your home or office contact Dave toll free at 877-389-1266 or email at dave(at)ashbyphoto(dot)com.