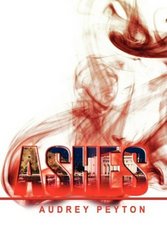 Wait it out, no matter how bad it gets. It'll all come together in the end
Palm Desert, CA (Vocus) October 19, 2010
Fans of the movie 2012 or those familiar with the Mayan prophecy of the end of the world have a new perspective to explore. In her novel, ASHES, author Audrey Peyton takes readers on an unimaginable journey, in which the world is being reduced to ashes.
Kit emerges from 100 days in an airtight shelter to find a ravaged world. Upon meeting other survivors, Kit joints them and the three struggle to create a new life for themselves, uncertain of what their futures might hold. Personalities range from racist to innocent, but the group learns they need each other in order to survive.
After two years spent in almost complete isolation, newcomers appear. Do they have answers to how and why this atrocity occurred? Were the new arrivals themselves involved? If so, what was the reason behind their evil act? Will Kit and friends find out what caused the destruction of the planet or, worse, discover there's a new war to be fought?
Peyton was haunted by her childhood in London during WWII and began writing ASHES in 1970. As a child, with the terrifying nightly blitzes, Peyton was sure the world would be destroyed. Years later, she channeled those feelings into ASHES, a book that will provoke readers into considering their own life choices.
Having remained in London throughout the Blitz with her mother and sister, a persistent lesson Peyton learned was: "Wait it out, no matter how bad it gets. It'll all come together in the end," a moral she truly illustrates in this chilling novel, set in Newport Beach, California; Catalina Island and Kauai.
ASHES
By Audrey Peyton
Published by Xlibris
? 2010 Audrey Peyton
Paperback 6x9
ISBN: 978-1-4500-1439-7
Retail Price: $19.99
About the Author:
Originally from London England, Audrey Peyton is a full time writer who has written three Harlequin romantic suspense novels, a biography of former MGM lion trainer Floyd Humeston, and his famous lion Fagan. Ms. Peyton has recently completed a science fiction novel, Shalimar, and a romantic suspense novel, Like a Diamond in the Sky. She has three grown sons and resides in Southern California.
Visit the author's website at http://www.audreypeyton.com.
###