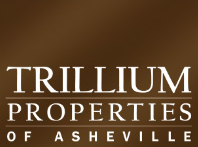 We have been seeing a decline in the number of distressed properties on the market as well
Asheville, NC (PRWEB) January 17, 2013
The Asheville, NC real estate experts at Trillium Properties of Asheville, Inc. report seeing a downward trend in unemployment and foreclosures in the region in 2012. This, combined with a gradual rise in average home prices over the last quarter, makes for a positive market outlook for the coming year.
The unemployment rate in Asheville for October 2012 was 5.9% as compared to October 2011's 7.2%, while the rate for Buncombe County during the same period was 6.7%, down from last year's 7.9%. This is a decrease of 1.3 and 1.2 percentage points, respectively. In the same period, total nonfarm employment for the metro area was up by 1.8%.
"We have been seeing a decline in the number of distressed properties on the market as well," says Trillium Properties' broker/owner Jen Ritchie Eller, a leading Western North Carolina real estate specialist. "While the number of foreclosures is still historically high, the fact that new filings are going down is heartening. There's also been a gradual rise in home prices throughout the region, especially in the higher end of the market."
One of the Asheville metro area's leading brokerages, Trillium Properties specializes in residential properties in Asheville and Buncombe County as well as in Blue Ridge mountain real estate in surrounding areas. "We are proud of the fact that 90% of our customers are repeat clients," says Eller. "And we think that a satisfied customer is our best reward. You can always expect us to work hard on your behalf, make your needs our top priority, and provide you with a seamless, enjoyable and successful experience."
For more information on the firm's wide range of services and to get the latest updates on the region's real estate market, visit their website at TrilliumProperties.net.