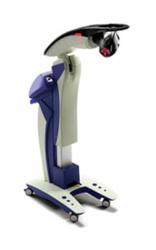 "My team and I are astounded at the results of the MLS laser, especially in problems such as plantar fasciitis and tendonitis" said Daniel Waldman DPM
Asheville, North Carolina (PRWEB) February 06, 2013
Blue Ridge Foot Center, a leading podiatry care facility located in Asheville North Carolina, led by owner and Medical Director, Dr. Daniel L. Waldman now offers MLS Laser Therapy to their patients suffering from foot and ankle pain. Dr. Waldman has owned and operated the Blue Ridge Foot Center since 1993 providing in office, and hospital, foot care to patients with the least intrusive surgical methods possible.
According to Cutting Edge Lasers, MLS Laser Technology can be used to treat tendon and ligament injuries, Tendonitis and muscle sprains and strains among other ailments that patients may be experiencing. Treatment is provided through MLS pulses which are pulsed laser emissions using controlled infrared wavelengths.
"My team and I are astounded at the results of the MLS laser, especially in problems such as plantar fasciitis and tendonitis" said Daniel Waldman DPM, a board certified foot surgeon in Buncombe County NC, who also serves on the science advisory board for Nuvolase Laser, Inc, "We have seen significant reduction of pain after surgery as well as pain associated with neuropathy. Some of our patients call it a 'magic wand'.
Treatments with the MLS Laser last from 10 to 15 minutes per visit without local anesthesia being required. Patients can expect benefits from early treatments to last two to three days, for a longer lasting or possibly permanent benefit, additional treatments are required.
Dr. Waldman recommends between six and ten treatments, at least 15 hours apart. For Patients that suffer from inflammation, swelling or another physical ailment, or injury, that limits their mobility or quality of life, MLS Laser Therapy may be the best option for non-intrusive, affordable and effective treatment.
Dr. Waldman, a Diplomate of the American Board of Podiatric Surgery and a Fellow of the American College of Foot and Ankle Surgeons, trained in foot surgery in Loma Linda, California. Continuing a 20+ year career in private practice, Dr. Waldman leads in the field of laser treatments for toenail fungus while making himself available to train other physicians. He has also lectured across the country on the topic of laser based medicine, been interviewed in print and television media internationally while continuing to manage Blue Ridge Foot Center in Asheville North Carolina.
Contact:
Blue Ridge Foot Centers
246 Biltmore Avenue
Asheville, NC 28801
828-254-5371